FEATURED: Retail Is Being Left Behind
ECOMMERCE: Nearly two decades have passed since the Internet began to fundamentally reshape the retail landscape. From the earliest dot-com vendors to the rise of e-commerce giants, retailers old and new have grappled with the ever-evolving ways consumers find and purchase goods. Today, at last, many businesses are coming to terms with Internet-enabled retail, adopting omnichannel models that provide seamless shopping with greater choices and lower prices across online, in-store, and mobile platforms.
On The Magic of Frictionless Retail
ECOMMERCE: It broke the dynamic of traditional retail, where the retailers held all the power. They chose what products they bought from manufacturers, and how they sold them to consumers. Retail sales teams would decide which products to place where, and how to activate them – a difficult decision that often resulted in cluttered shelves. Brands were left competing to offer the most attractive promotions and the flashiest point-of-sale package, to cater as much to retail decision makers as to consumers.
Condé Nast Expands Data Offering
DATA: Spire makes use of Condé's behavioral data and 1010data's purchasing insights to help clients identify, target and optimize "correlations between consumers' content consumption and their purchase activity," the New York-based publisher said. According to Condé Nast chief digital officer Fred Santarpia, Spire gives Condé "the ability to optimize campaigns in real time and on a highly personalized level."
5 Myths About Influencer Marketing
BRAND: The popularity of influencer marketing has made the field ripe for opportunists to capitalize. That's what happens when new trends emerge into mainstream marketing: advice and experts start popping up everywhere. Some of that advice is good, some is suspect and plenty is just pure mythology. Like a dragon – just as mythical but also potentially dangerous to your marketing. Fantastic tales of fame and success ala the latest marketing tactic du jour rarely lead marketers to business success. 
Mobile Ads Drive Higher Brand Lift
MEDIA: Why do mobile ads work so well? One hypothesis is that mobile ads cover a greater portion of the screen, causing them to appear more directly in the consumer's field of vision (and in a very lean-forward environment). Conversely, desktop ads can be more easily overlooked if they're small relative to the content on the page or if they're positioned in less prominent real estate, such as below-the-fold or off to the side. Mobile's success in the lower funnel might also be attributed to mobile users often being closer to the point of purchase than when they are on their desktop computer.
Roku Leads OTT Streaming Devices
MEDIA: It might come as a surprise to many, for example, that Roku devices are accessed by more households than any other OTT streaming device, including Google Chromecast and Apple TV. The three of these devices combine for greater than 80% share of the market, while Amazon Fire TV recently emerged as the third leading player with a 16% share. In an increasingly competitive market with some of the biggest names in tech vying for position, it's impressive to see a company like Roku, Inc. carve out almost half the device market with 49% market share.
Europe's Favorite Online Bike Seller
ECOMMERCE: It's been successful. Canyon reports year-over-year sales growth of 30 percent for the past six years. "It's unheard of for the industry," says Frank Aldorf, chief brand officer at Canyon. The company maintains service centers in 20 countries, and its bikes have been shipped to 104 countries—just not to the U.S.  "From a business perspective, there wasn't an immediate need," Aldorf says. "We had the luxury of taking our time and thinking it through."
5 Trends Reshaping Marketing
BRAND: Online shopping accounts for only about 9 percent of total consumer retail spending, according to the most recent quarterly figures from the U.S. Census Bureau. But make no mistake—everyone from retail behemoths to specialty boutiques is feeling the pressure to adapt more seamlessly to the digital world, to bring in that all-important foot traffic and to deliver an experience that consumers can get nowhere else.
How Beyonce Inspires AirBNB, Warby, Etc.
BRAND: Yes, Beyoncé knows how to slay. And her impact is much greater than even these statistics imply. She has become one of the world's most distinctive brands, a single-name powerhouse. She's not only redefining how artists market themselves, building an uncommonly loyal customer base known as the Beyhive, but her successes are reverberating more broadly across the business landscape, too
Siri Started  and Lost  The Assistant Race
DATA: Before we talked to Siri, we all wanted to meet her. From our living room couches, we watched her make gazpacho with Samuel L. Jackson, dance to "Shake, Rattle, and Roll" with Zooey Deschanel, and help John Malkovich through an existential crisis. Steve Jobs died just one day after Apple's personal digital assistant was unveiled to the world, but he'd long before taught us how to hyperbolize her arrival. CNN called her "the stuff of science fiction." Apple marketing head Phil Schiller said she'd be "amazing right out of the box."
Wan-Mart to Sell Chinese eCommerce Biz
ECOMMERCE: Wal-Mart has struggled to build its China business as fast as hoped. The sale of Yihaodian comes as a surprise after Wal-Mart announced in July last year that it had taken full control the of venture from its minority partner, paying $760 million for the 49% stake it didn't already own. Wal-Mart executives have said they want to move faster to grab a larger piece of the rapidly expanding online and mobile Chinese shopping market, slowing the growth of their store expansion in the country.
'Believeland' Is Real
BRAND: Skeets Sports Bar sits on the East Side of Cleveland in a working-class neighborhood that is three blocks from Luke Easter Park – named after the former Negro League and Major League Baseball first baseman. Skeets is also three blocks south of the former music studio of LeVert, the R&B group led by Gerald LeVert, son of Eddie LeVert of the O'Jays. The bar also neighbors Mount Pleasant, an area that housed some of Cleveland's greatest NFL stars, including Marion Motley and Hall of Famer Jim Brown.
Last Word: A Metaphor For Cleveland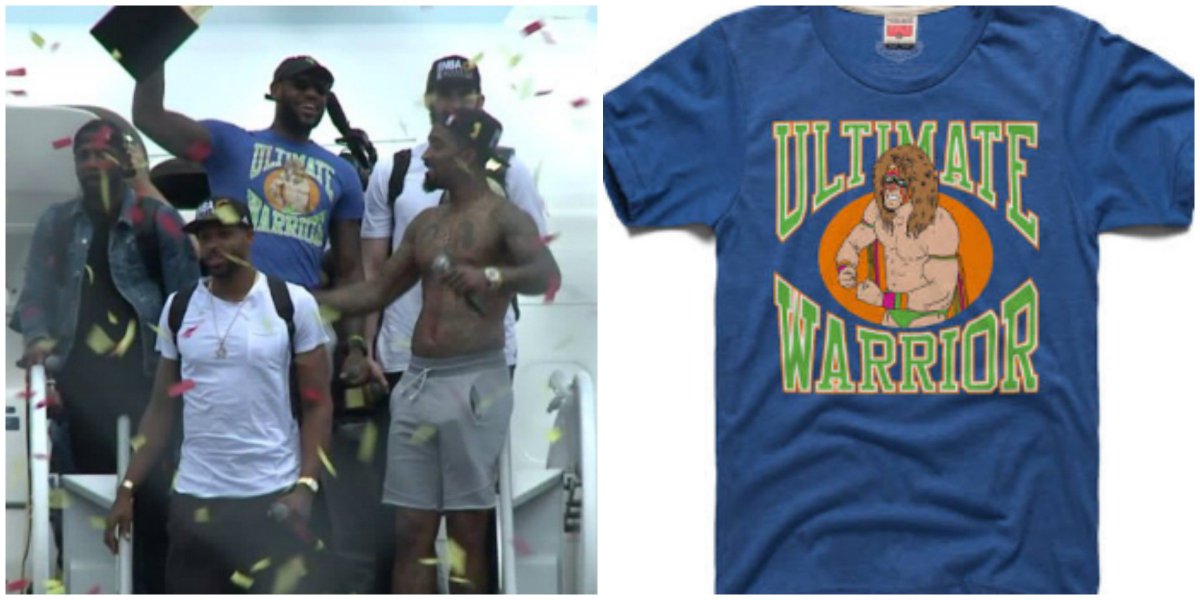 LeBron James steps off of the team plane wearing another statement, he's "The Ultimate Warrior." Just a week ago, it was a shirt that read "The Undertaker." But you have to peel back a few layers to understand why - beyond curses and sports - this win was so important for the city of Cleveland and, frankly, the entire state of Ohio. You may not have heard of HOMAGE, the company who licensed the image and printed that shirt - one of millions that they'll sell in 2016. If they do have investors, they are silent. They don't have a Mattermark presence. And rarely do you see their CEO, Ryan Vesler. The product, in essence, does all of the public relations.

Just a few miles away, there is even larger eCommerce brand. It's digitally vertical and it's native to the web. It's one of those DNVB's that Andy Dunn describes, though it isn't linked in his encyclopedia. They are growing faster than the majority of private eCommerce companies and yet, you've probably never heard of them. Rogue is building a $35M office structure for its 300+ employees and the eCommerce brand has never once been featured in TechCrunch or Recode or VentureBeat. If they do have investors, they are silent. You'll rarely, if ever, hear from the company's top two employees.

For sizable cities like Cleveland, Cincinnati, and Columbus this is the status quo; Cavs management, their season, and their story arc are all business as usual. Be underestimated until the very end. Even the major venture capital funds like Ohio's Drive Capital (who manages $.5B) are inconspicuous compared to their coastal counterparts.

So, What Happened When Venture Capitalists Took Over The Warriors:

When I asked him about the previous night's game, [Warriors Owner - Joe Jacob] could hardly contain himself. He boasted that the Warriors are playing in a far more sophisticated fashion than the rest of the league. "We've crushed them on the basketball court, and we're going to for years because of the way we've built this team," he said. But what really set the franchise apart, he said, was the way it operated as a business. "We're light-years ahead of probably every other team in structure, in planning, in how we're going to go about things," he said. "We're going to be a handful for the rest of the N.B.A. to deal with for a long time."

The ultimate lessons that I've learned over the years: is that (1) humility is far more effective than hubris. And (2) work for your team, not for the credit. The legacy that the Cavaliers' 2015-2016 season will leave for Cleveland and its state? Ohio isn't just good enough to compete, it's an able competitor. Things are done differently, but things do get done. Ohio is an effective place to do business. Yes, there are fewer bets made. And those bets may involve less startup capital but places like Cleveland focus on finishing, not starting. It's tougher to earn a win here but each win means more. Hype matters little compared to the outcome.

There are lessons that both regions can learn from one another. But the lesson that was taught last night? Put your team in a position to succeed and then let the work speak for itself. Hats off to the Warriors for an amazing season.