Today's Top Intelligence (12 Reads)
Best Selling on Prime Day?
ECOMMERCE: The e-retail giant's self-created holiday Tuesday generated 60 percent more sales globally than its inaugural Amazon Prime Day in 2015. In the U.S., year-over-year sales were up 50 percent, according to the Seattle-based company. What's more, consider how successful a day it was for robots alone: Amazon Prime members purchased more than 23,000 iRobot Roombas, the autonomous robotic vacuum cleaners. So, it's not surprising that Greg Greeley, vp of Amazon Prime, said in a statement Wednesday morning, "After yesterday's results, we'll definitely be doing this again."
Agencies Scramble For Strategy
AGENCY: Dario Raciti, U.S. director of Zero Code, the gaming and virtual reality division of OMD, cautioned that many marketers are still wrapping their heads around the explosion in popularity of "Pokémon Go." And he noted that one of the worst things the creators of the app could do would be to overload the game with ads, turning every Pokémon adventure into a walk through the virtual version of a billboard-filled Times Square. Still, many ad executives see Pokémon as an eye-opening moment for many marketers when it comes to mobile and location-driven experiences.
Pokemon To Allow Sponsors
BRAND: Niantic offered similar sponsorship deals with another game, Ingress, in which it had partnered up with retailers like Duane Reade, Jamba Juice, and Zipcar. "There are several ways that we see the potential for significant monetization of Pokemon Go by Nintendo, and one of them is certainly the potential for paid advertising or paid deals that encourage players to come to a particular building or store," Atul Goyal, analyst at Jefferies, told the Financial Times. "It is a huge opportunity."
In-App eComm Dwarfs Ads
ECOMMERCE: AppsFlyer calculated that "the average global paying user spends $9.60 a month per app, which is 20 times more than the average user." Yet only about five percent of app users make purchases. Apple users spend 2.5X more than Android users on in-app purchases, and the number of in-app purchasers on iOS is also 50 percent greater than the number of Android users making in-app purchases. Average in-app purchase value for iOS is about 2X vs. Android.
Data Is The New Oil
DATA: "Data will become a currency," Kenny said. He also explained that only 20% of the world's information is stored on the Internet, with the other 80% being privately held within companies and organizations. Additionally, Zilis discussed the history of so-called "AI winters" in which the hype of AI failed to meet the general public's expectations, and led to periods of years of declining research into AI during the mid-1970's and the late 1980's to early 1990's.
How To Reduce Cart Abandonment
ECOMMERCE: The average shopping cart abandonment rate is as much as 68.63%, a value that's calculated based on 33 different studies. Paying attention to checkout UX, and designing for the specific needs of your target audience can decrease the number of customers who abandon their shopping at the last crucial moment, in midst of the checkout process. In this post, we'll have a look at the reasons why cart abandonment happens, what designers can do about it.
2016's Best Perceived Brands
BRAND: When it comes to brands, familiarity doesn't breed contempt, at least according to YouGov BrandIndex, which released its midyear rankings of best-perceived brands today.According to the study, the most well-regarded brands are ones consumers interact with on a daily basis. For the first half of 2016, consumers held new media and technology brands in high regard. Amazon, which has stayed in the top spot for the past two years, once again topped the list, with Netflix, YouTube and Google remaining close behind.
10 Google Analytics Custom Alerts
ECOMMERCE: Traffic is just one of the many metrics you could monitor. Say your ecommerce site sells popcorn. You typically sell about 50 tins of popcorn per day. However, yesterday you sold just four tins and you were so busy making popcorn that you didn't notice the drop in sales.Thankfully, you spent five minutes last week creating a few alerts, including one for a drop in sales. Now, having sold just four tins of popcorn, you receive an alert. The cause was a broken link to the checkout page for your most popular popcorn flavor. You corrected the link. The alert saved your week.
Snapchat Misses The Election Train
ADTECH: Still, Snapchat is lagging behind on what's likely to be a record year for digital ad spending, despite a slow start because so many Republican presidential primary candidates fizzled out quickly. The groups trying to elect Hillary Clinton and Donald Trump for president, as well those working in Senate and congressional races, are expected to spend $1 billion on digital ads, five times what was spent in 2012, estimates Nomura Securities. (Total ad spending by the campaigns is expected to reach $10 billion, Nomura estimates, 70% of which will go to television.)
The Subscription Company
ECOMMERCE: While Prime is the best known of Amazon's subscriptions—highlighted by Tuesday's Prime Day sale to drive more membership—Amazon sells at least seven other offerings. Some, like the $5.99-per-month comics subscription offered by Amazon subsidiary ComixOlogy, are niche products. Others, like Amazon's $59.99-a-year Dropbox competitor or its $24.99-a-year service to store your personal music files on Amazon and stream them to any device, remain relatively obscure because Amazon doesn't advertise them heavily.
The Top 5 eCommerce Needs
ECOMMERCE: Nearly anyone can establish an E-commerce site nowadays, thanks to web design templates that use drag-and-drop technology to present a professional looking site in a matter of minutes. Yet publishing an E-commerce site may be the simplest step in the process of establishing an online store that attracts customers convincing them to buy. Here are some of the key features customers like to see in an E-commerce site. 
Will KD Increase Nike Sales?
DATA: When a marquee player moves from a small market to a large one, sales typically jump. For instance, we saw this when Carmelo Anthony moved from the Denver Nuggets to the New York Knicks. But I fear the headwinds in performance basketball cited by many brands and retailers will have a dampening impact on any upside for Durant. I believe the marquee basketball trend is now over and will not generate much growth over the next few years, regardless of where players play. 
Last word: The Lens Through Which To See A Craze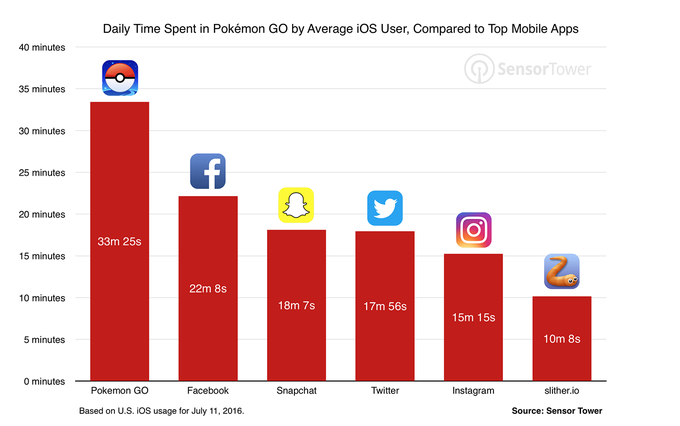 I'll be there first to admit, I didn't grow up playing games like Pokemon. I can understand how silly all of this may seem to other folks who, like me, think that this brand of game is silly and childish. Perhaps it is a bit childish, but many adult crazes begin as millennial fads. And this AR game is actually appealing.

To ignore the business implications of a new style of consumer consumption is ill-advised. The network effects of this game may slow, in time, but the style of mobile experience will probably be around for a long time. For instance, this summer there will be American sporting events and concerts with attached retail expos. Vendors will pine over how to generate pop-up store demand. If this particular gravy train continues, the brand that best executes their - dare I say - Pokemon strategy will see a major jolt in foot traffic (lure model here). And this is just one real world example that would move the needle for a retail based business.

Every new platform is silly, at first: Facebook, Twitter, Instagram, and Snapchat. Yet, seasoned executives have paid agencies or brand operatives to develop strategies for these platforms. This isn't much different.

In the latest paid Internet Retailer report, analysts mention that the fastest growing brands cited the correlation between YoY eCommerce sales growth and strong and organic Twitter and Facebook community around the product. Don't be afraid to pioneer brand strategies on new, with obvious network effects.