This is issue no. 126 of 180. The last issue had a 42.47% open rate with a 6.06% of you going to this Shopify article on mobile retail apps.

Briefs: (1) Skift launched a food vertical today. (2) iOS 10 adoption is at 14.87% or more devices than Google Android Marshmallow. (3) Take a look at this image from Apple Airpot's patent (August 2015). Though widely panned, the new Airpods will enable the mass use of voice commerce, in ways that only Amazon power users benefit from, today. These pods are Apple's answer to Amazon's Echo and Apple's recent announcement potentially expedited Amazon's p.r. for their Amazon Echo Dot (a mass adoption version of the Echo).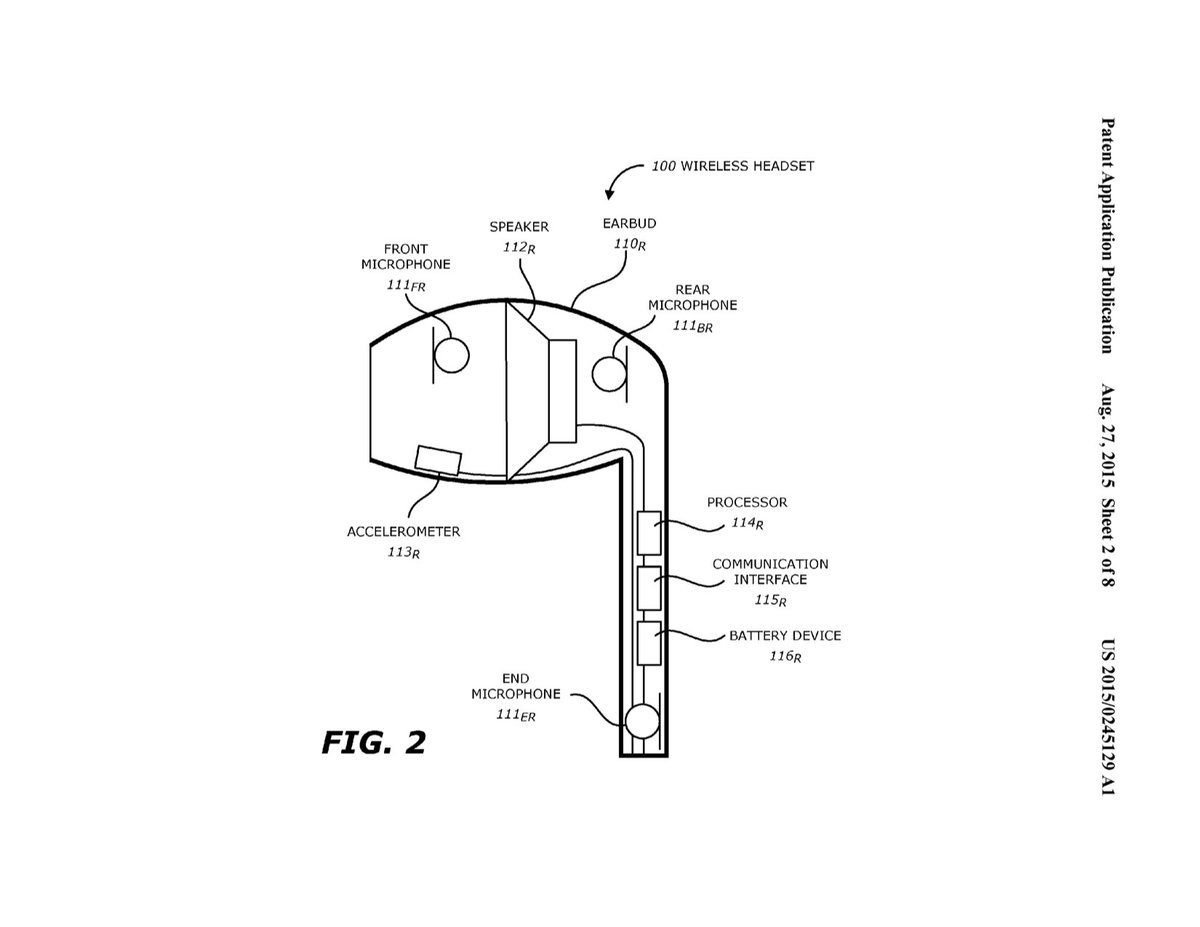 New to this daily letter? Subscribe here.
Today's Top Intelligence (12 Reads)
Decoding Amazon's Fashion Ambitions
ECOMMERCE: Amazon's seemingly stealth moves are already wreaking havoc in the apparel space. A recent report from Cowen and Company suggested that Amazon will displace Macy's as the number one US apparel retailer sometime in 2017. Recent estimates from Morgan Stanley are even more bullish, pegging Amazon's market share at 7 percent of all US apparel sales, projecting it will reach 19 percent by 2020. The same report states that Amazon is the second biggest apparel retailer in the US, behind Wal-Mart.
Marketing to Rise Above the Noise: Vaynermedia
MEDIA: One of the things we're constantly thinking about is how to reach people online. "We want to take our content and reach to the next level and figure out where people spend their time," said Eric Fulwiler, Executive Director of VaynerMedia London. Along with Eric, at Social Media Week in London, we heard from Ryan Murphy, Creative Director of VaynerMedia London, and Jenna Pelkey Director of Global Media and Marketing Strategies at GE.
We're Not A Social Network - Jack Dorsey
MEDIA: Every day we announce more and more. It's super early. We started with Wimbledon and went straight to the RNC and learned a lot with both of those, and are applying those learnings to the DNC, for instance. People really appreciate the quality of the stream. Where we can be better is making it easier to find and to share. But that's next. Right now is making sure that we get the quality right. So when you're actually there and when people get that experience, they see something that's really meaningful and valuable.
Amazon Has Solved the Echo's Echo Problem
VOICE FIRST: As far as problems go, owning multiple voice-controlled speakers seems like a pretty okay one to have. But it was a problem nonetheless for owners of Amazon's voice-controlled speakers, the Echo and Echo Dot, when both devices would respond if they were near each other when you spoke a command. Amazon says it has now solved that problem, so that only one responds in these instances. Want to sound smart? Amazon calls it Echo Spatial Perception. The technology will roll out to the first generation of Echo devices in the next few weeks.
Exploring Mobile's Role in eCommerce Marketing
ECOMMERCE: A study by Internet Retailer suggests that although the absolute number of users is lesser than the United States, Asian markets experienced a staggering 240% growth in their mobile commerce in 2015, which was six times the growth rate in the US, the European markets saw a growth of 71% from the previous year, and Latin American markets saw a spike rate of 60%. The study further suggests that these growth spurts in the mobile commerce space are a result of an influx of visitors flocked to the mobile way of shopping.
Winning by Observing eCommerce Trends
ECOMMERCE: From observing retailers and e-commerce brands, we've noticed that many tend to release their campaign content just in time for seasonal events and are missing out on some big traffic and sales opportunities by doing so. We've found that releasing marketing content a couple of months in advance of the consumer research stage is the best way to continuously maximize ROI, year on year — and we've got the charts to prove it! Let's start off by focusing on a single year of search volume data for the term, "Halloween Costumes," which we've collected from Google Keyword Planner.
Best Reactions to Apple's New Emojis
MEDIA: New emojis are here, and the internet can hardly cope with the changes. The new icons come with Apple's iOS 10 update, and feature a few notable updates. As the company stated in early August, Apple's replaced the gun emoji with something a little friendlier: A bright green water pistol. But that's far from the only change. The company also debuted makeovers for some of the people emojis, including the beloved "information desk person" emoji (or, as you know her, the sassy pink lady emoji).
Why Pop-up Stores Keep Popping Up
ECOMMERCE: This week, Business Insider reported that Amazon would open dozens of pop-ups across U.S. shopping malls over the next year. These storefronts would act as a way to showcase tech products like the Echo speakers. In a job post hiring for these stores, the company said that pop-up stores have "emerged from the test phase with a goal to expand and grow." Amazon is the latest major brand to experiment with pop-ups, temporary storefronts that brands use as test beds or a way to communicate with customers who normally shop them online. 
Publishers Offer Scathing Assessments of AdBlock Plus
MEDIA: The fact that APB has positioned itself as protecting users from ads, only to then say it's going to allow ads it deems acceptable to those who pay for it, has caused real shock. "Amazing how the goalposts keep changing for their users, whilst publishers are indiscriminately targeted. It turns out Adblock Plus actually want to serve you more ads not less. True colors revealed." Randall Rothenberg, CEO of the Interactive Advertising Bureau and a vocal foe of AdBlock Plus, couldn't resist some skewering of its own.
Bold Launches Video Commerce for Shopify
ECOMMERCE: Inviid allows you to take any video you host on YouTube (with more platforms coming soon) and tag your store's products within it. When a customer watching the video clicks on a tagged product, they can shop it right then and there without ever having to leave the video!  PLUS, if that same video gets embedded on any other website or blog, it's shoppable in the exact same way. In fact, here's an example of a video we embedded in this blog post that's shoppable. When you click play, you'll see a little shopping icon appear on the backpack.
Facebook Video Leaves a Small Window for Advertisers
MEDIA: Advertisers have to design video ads for News Feed very differently than they do for television, thanks to data showing that most video ads on Facebook aren't watched for more than a few seconds/ The study found that little more than 30% of video ads on Facebook met the industry standard of a "viewable" ad, one that is played for two seconds or more with at least half the video in view, said a person familiar with the study. On YouTube, more than 70% of ads are deemed viewable.
Snapchat Maxes Out 18-25 Year Olds
MEDIA: When people are just using their smartphone -- and no other connected device -- 87% of their is time spent in mobile apps. And every age group is using apps more over time, with 55-to-64 year-olds showing the greatest year-over-year increase, ComScore said in the report. That's not to say the mobile web has no audience -- it's just the opposite. The open mobile web dominates apps when it comes to reach.
Graphic of the week: iOS 10 Adoption