Today's Top Intelligence (12 Reads)
A Geometrical Interpretation of Disruption
BRAND: Since the formalization effort of the theory of disruption has begun, debating about a possible relationship between disruption and diffusion has intensified. The theory of the 'diffusion of innovation,' first proposed by Everett Rogers in 1962, has been viewed as a fundamental descriptive model for how a new solution in a form of a product or a service is adopted by a consumer population. A myriad of empirical data has supported the diffusion model. In it, a new solution will take time to be adopted.
KFC Would Make the Colonel Proud
BRAND: KFC has been squawking, in a manner of speaking, about it plans to re-accelerate growth—and all the noise began with a daring strategic move: bringing back the Colonel. Colonel Harland Sanders, who founded "finger lickin' good" Kentucky Fried Chicken in the US in 1952, has been dead since 1980. And under previous owners and its current parent, Yum! Brands, KFC either had let the Colonel rest in peace or misunderstood his image—think of Sanders as a cartoon character or a rapper—for all those years.
Q2'16 Sees Fewest eCommerce Deals Since 2013
ECOMMERCE: The e-commerce sector finally heated up again in early Q3'16, with Unilver's $1B acquisition of Dollar Shave Club – the fourth largest e-commerce deal since 2009 – and Walmart's acquisition of Jet.com. However, prior to those two major acquisitions, deals and dollar flow to e-commerce startups had both dropped significantly in Q2, cutting short Q1′s deal rebound and marking the third consecutive quarterly decrease in funding. We define e-commerce as companies using websites or mobile apps to sell physical goods, as well as enablement companies that build these sites and apps.
Joe Tsai: Alibaba Finding Its Groove [UNLOCKED]
ECOMMERCE: As Alibaba's business improves, the company wants to expand in India and take on Tencent in social. Vice Chairman Joe Tsai says that the slowing Chinese economy isn't a concern "Last year at this time, I told the market that we would grow revenues at a much higher rate than GMV [the measure of total sales in Alibaba's marketplace]," he said in an interview with The Information after a day of meetings with some of the company's biggest investors in New York. "Nobody believed me, but now we did."
Some Marriage Advice for Walmart and Jet.com
ECOMMERCE: Walmart also needs to continue making its site easier for sellers to use. Until recently it was impossible to list an item on Walmart.com -- say, a t-shirt -- with dropdown menus offering different sizes and colors. Instead, if a t-shirt had 11 colors and 4 sizes, sellers would have to create 44 different listings.
Tesla Cars get New Features with Software Update
INNOVATION: On Wednesday evening, Tesla began rolling out its latest software update, Version 8.0. It's the biggest software upgrade to date for the company and will bring all kinds of new features to Tesla cars. Here's a look at some of the best new features included in the software update. 
How Hampton Creek Sold Silicon Valley on a Fake-Mayo Miracle
BRAND: Hampton Creek never publicly admitted its numbers were wrong. It scrubbed its site of sustainability claims, and the Cookie Calculator vanished. Such quiet backpedaling might be forgivable at many young companies—overeager math isn't unheard of in Silicon Valley. But at Hampton Creek, it fits a pattern of mistaken or exaggerated claims that may prove to be deliberately deceptive. In August the U.S. Securities and Exchange Commission and the Justice Department launched probes of Hampton Creek for possible securities violations and criminal fraud.
Facebook Messenger Encourages Peer to Peer Payments
ECOMMERCE: Facebook is rolling out two new features for its popular Messaging app, giving users in-chat polling and also testing out an intelligent way to detect when you want to send money. The latest changes will be available on both iOS and Android starting this week, but they're limited to the U.S., for now. One of the benefits of using a messaging app is the convenience of group conversations. But extended group chats can get overly complex. This is where polling comes into play:
Winning Instagram Examples From Global Brands
MEDIA: What with the data in the report having been collected by Facebook and the title of the document seemingly only referring to Facebook, you'd be forgiven for thinking that the research covered anything other than Mark Zuckerberg's flagship service. But it is the Instagram-related trends buried deep in the latter pages which I wanted to cover today. After all, there's more to social media than Facebook. Instagram is proving a successful service for brands and organisations to engage with their audiences. And in the process, some are using content in a number of interesting ways.
Khloe Kardashian Announces Good American Denim Brand
ECOMMERCE: Good American jeans, available at Nordstrom and on GoodAmerican.com beginning October 18, will offer bottoms in sizes 0 to 24, as well as in three silhouettes: Good Legs (skinny), Good Cuts (boyfriend) and Good Waist (high-waisted) according to a WWD report. Kardashian, who's currently dating NBA player Tristan Thompson, first hinted at the news of her project in a Wednesday, May 4, call for models. "I'm looking for beautiful, powerful women to star with me in a campaign for my new denim brand! Details at theGAproject.com," she captioned a selfie.
Amazon Doesn't Always Show Lowest Price First
ECOMMERCE: An investigation from ProPublica looked at 250 frequently purchased products to see which ones were given the most prominent placement on Amazon. About 75% of the time, Amazon gave top billing to its own products and those of companies that pay for its services, even when there were significantly cheaper offers available. That top placement is key; most Amazon shoppers will click "add to cart" for the offer pointed out in the buy box. "It's the most valuable small button on the Internet," technologist Shmuli Goldberg told Pro Publica.
Vans on How to Capitalize on a Viral Video
ECOMMERCE: VF Corp. vice president Karl Salzburger told analysts on VF Corp.'s second quarter 2016 earnings call in April that the white Vans featured in the Damn Daniel video had a 100% sell-through rate, meaning every pair that shipped was sold. Vans has a team of employees ready to react quickly in the event that lightning strikes again with a video that takes off in the way the Damn Daniel did, Sullivan says. The brand's ability to react so quickly stems from its leadership structure within each brand.
Last Word: Amazon's AWS is the differentiator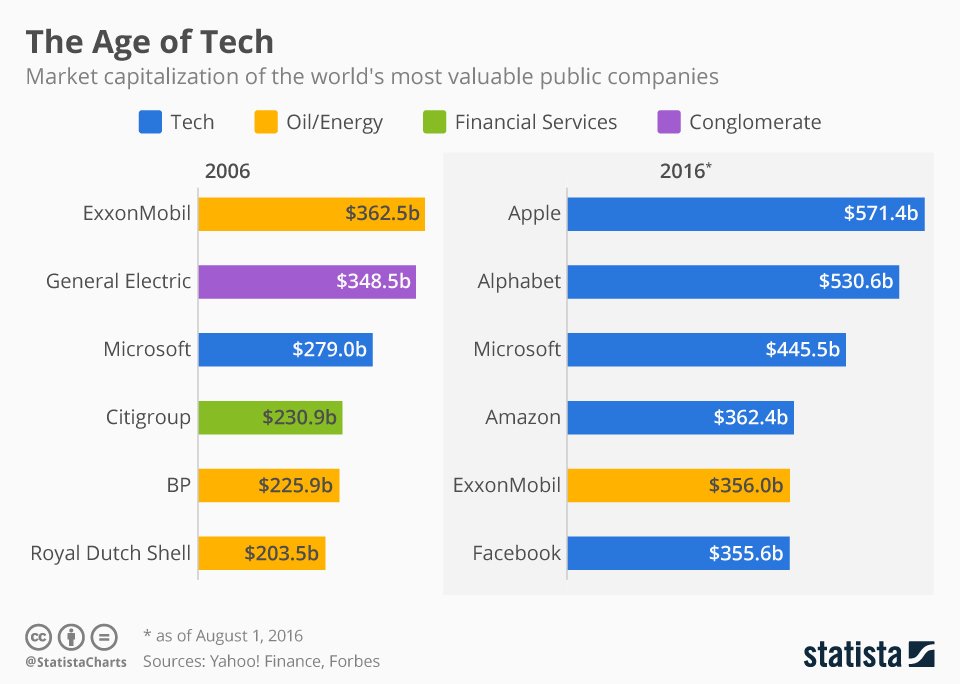 I've always viewed Amazon's stock price as a bellwether for the entire eCommerce industry. It is a leading indicator of what is possible. Amazon ($AMZN) passed Exxon today, as the most fourth most valuable publicly traded company. But as much as I like to give eCommerce the credit, Amazon's Web Services (AWS) is the enabler of much of Bezos' success. AWS subsidizes Amazon.com product prices allowing the eCommerce provider to better compete against the likes of Walmart, Jet.com, eBay, and the rest. It is Amazon's primary source of net profit. Here's more about AWS, below.

via Ben Thompson and Stratechery.com:

In the case of AWS, Amazon isn't simply renting you servers. I mean, yes, you can effectively do that, and a lot of companies do, and yes, Amazon has very real advantages when it comes to scale and availability, but if that were the only point of AWS then the biggest reason to think the company could win in the long run is a cultural one: the company has the stomach for low margins in the way its competitors don't.


But again, AWS as on on-premise substitute isn't that cheap, and the division's margins are not only good but they are growing. To be sure, some of this is a function of having a head start and, well, brand; most new companies especially don't even consider going anywhere else, and since AWS makes it easy and cheap to get started, by the time costs are a consideration the hassle of moving weighs much more heavily.


More than that, though, Amazon is already much further along in the Infrastructure-as-a-Service to Platform-as-a-Service transition than most people think; the key is that Amazon's platform offerings tend to be so open and flexible that they look like infrastructure. The sheer breadth of services offered by AWS, including a growing number that enable completely serverless applications, is extremely impressive, and unlike traditional PaaS offerings they can be used in nearly any development environment.