This is issue no. 138 of 180. The last issue had a 41.74% open rate with 6.89% of you going to this article on today's fashion trends revealed by data.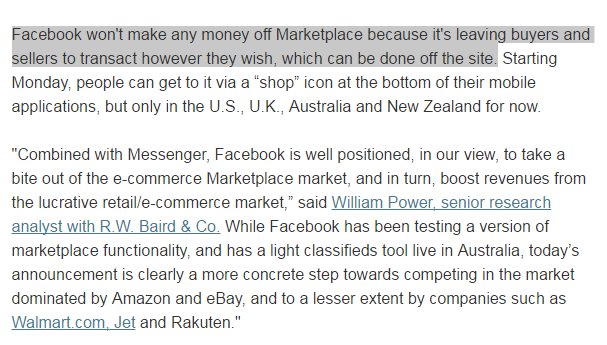 New to this daily letter? Subscribe here.
Today's Top Intelligence (12 Reads)
EMV Just Got Easier: Introducing "The Clover"
FINTECH: This week marks the one-year anniversary of EMV in the United States, and yet you still find yourself doing the 'do I dip or do I swipe' dance with your customers, followed by a wait that can seem like forever while the transaction completes. With the rush of the holiday season right around the corner, what at first was a minor inconvenience may transform into even longer lines for your customers as they tackle their holiday shopping.
A Fast-Track to Customized eCommerce Sites
ECOMMERCE: Johnson and Four51 are expecting more business-to-business e-commerce companies to opt for technology that is highly customized to meet the needs of particular buyers. It's called platform-as-a-service, or PaaS, and is part of a trend toward broader customization in online technology that led Alphabet Inc.'s Google earlier this year to agree to pay $625 million to acquire Apigee Corp.
theSkimm Looks Beyond the Millennial Inbox
MEDIA: The fact that the company's New York-based co-founders Danielle Weisberg and Carly Zakin [read our interview with them here] are themselves both millennial females certainly doesn't hurt. As 20-somethings working in the news media, they started their self-described "company that makes it easier to be smarter" from their couch, convinced of a market opportunity they were confident they could own. theSkimm won over millions of millennial inboxes through a relentlessly focused product and brand.
Google Seeks to Humanize its Brand
DATA: Like Siri, Cortana and Alexa, Google Assistant will tell jokes and have conversational features to "humanize" and make Google "more approachable." One of the advantages that Google has with the Assistant over its rivals is its search index and knowledge graph. However Germick said that there may be instances where Google Home will not provide a result rather than offer a list of search results read back. Germick explained that in creating the Assistant's personality, Google utilized "storytellers" from Pixar and The Onion, among others, to craft scripted answers to a broad range of questions.
Brands Like Under Armour and Gatorade Are Making Interactive Games
MEDIA: Under Armour became the latest marketer to experiment with an interactive game on Snapchat's Discover. It Comes From Below, from RED Interactive Agency and Droga5, turns players into Carolina Panthers quarterback Cam Newton where, with some fancy footwork, they dodge obstacles in a forest. In August, Gatorade released its first video game within Snapchat's Discover ESPN channel, Serena Williams' Match Point, from game developer Ludomade and TBWAChiatDay. Here, players get their chance to win one of her Grand Slam singles titles.
How To Develop Brand Longevity
BRAND: Many newer brands are now offering an actual brand promise as part of their marketing to show their stakeholders how they can fulfill what they market about their brand. For example, American Addiction Centers' brand promise says, "If you successfully complete our 90-day program, we guarantee you'll stay clean and sober, or you can return for a complimentary 30 days of treatment." They are illustrating an action that they plan on taking but also state they have confidence that they have the service and solution to help their customers. Brand promises cannot just be words on a website.
BuzzFeed Gets Serious About eCommerce
ECOMMERCE: To that end, they broke its commerce-focused editorial team, called markets, out into its own operation, and began preparing to monetize all its markets content, enrolling in affiliate links technology provider Skimlinks and surveying its subscribers to get a more complete picture of how they shop on the internet. Before long, its business team was busy securing exclusive discounts and deals for its subscribers; so far, e-tailers including Fab, Bulletin and Shoeaholics have signed on. 
Criteo Paying $250M to buy eCommerce Ad Firm
ECOMMERCE: HookLogic, a startup that helps consumer brands place ads on e-commerce sites, has agreed to sell for $250 million to publicly traded ad-tech firm Criteo. HookLogic works with retailers like Walmart, Target, Costco and Best Buy to sell sponsored ad placements on their web pages when shoppers search for a product on their sites. Consumer brands bid to place these cost-per-click ads across HookLogic's network of e-commerce sites.
I want my Snapchat TV: MTV is launching Discover Shows
MEDIA: MTV's decision to create these video series for Snapchat stemmed from conversations the network had with the social messaging app about doing more shows for Discover, said Joanna Wells, vp of digital for MTV International. "We have been on the platform since the beginning and our content has evolved a lot," she said. "We're now looking at engaging the audience by doing more recurring shows."
Why Facebook's eCommerce Dream Failed
ECOMMERCE: That, in short, is the story of e-commerce on Facebook. For all its success building an ad juggernaut, the social network has never become the online shopping emporium once predicted. Instead, its retailing initiatives have been marked by a string of stumbles. Now it's back with another attempt, perhaps its most ambitious of all. Past performance has not been encouraging. 
Is Activewear Being Stretched Too Thin?
DATA: Denim was the primary victim in the rise of activewear. While the denim business has since rebounded in Q2, it has not done so at the expense of the athleisure trend. This trend peaked in Q1 of 2015, but has stayed positive even through the return of denim. In late 2014 and early 2015, consumers were still accumulating their activewear wardrobes. Now, the business is much more of a replacement business.
Shopify Buys Design Consultancy Boltmade
ECOMMERCE: Platform provider Shopify Inc. has purchased Boltmade Inc., a product design and development consultancy based in Waterloo, Ontario. The purchase price was not disclosed. Shopify, which mainly works with small and medium-sized businesses, says the acquisition of Boltmade will help accelerate the development of its Shopify Plus product, which the company launched in 2014. 
Last Word: On Facebook's Marketplace Play
via Ben Thompson, Stratechery.com

The business potential of Marketplace is pretty straightforward: as I just noted, the initial stage will be about using Facebook's massive userbase (i.e. potential buyers) to draw sellers to Marketplace. At first this will likely be individuals selling second-hand items (like those in Facebook's promotional video), but I'm sure the goal is for businesses to follow. And, once sellers (both individuals and businesses) are on Marketplace, and buyers are fully engaged, Facebook will for a small fee provide opportunities to ensure listings are seen by prospective buyers. It's a formula that Facebook has repeated again and again and for good reason: it works really well.


To that end, it's very smart that Facebook isn't forcing any particular type of payment or delivery mechanism on Marketplace: sure, Messenger now supports payments, but most people haven't set that functionality up, and to require it now would introduce too much friction. That would not only make it harder to overcome Craigslists' moat but also be counter to the disciplined and patient way Facebook has built out monetization for its various products.


As for financial impact, Marketplace has a bigger opportunity than you might think: reports suggest that the privately-held Craiglist only had $381 million in revenue in 2015, but needless to say the site hasn't tried very hard to make more. Newspaper classifieds, on the other hand, peaked at $19.6 billion in 2000. Of course that is not a perfect comparison either — Facebook won't succeed by charging for every listing! — but local advertising is a $100 billion business and this is Facebook's most obvious entry point. And, if you squint, you can see this being a path into proper e-commerce.


In addition, I'm impressed with how Facebook is rolling this out: I made a big deal out of that center tab because it's a big deal, and it's good to see Facebook, having decided to pursue this market, not holding anything back when it comes to ensuring it succeeds. Sure, if the product fails switching that tab out will be embarrassing, but as the cliché goes better to have failed than to have never truly tried (and, if the product succeeds, I'm sure a Facebook Marketplace app will follow; it would be interesting if that center tab becomes Facebook's de facto incubator).