This is issue no. 163 of 180. The last issue had a 43.48% open rate with 10% of you visiting this article on J. Crew's struggling brand and their product conundrum.

New to this daily letter? Subscribe here.
Today's Top Intelligence (12 Reads)
The Nike / UA Basketball Shoe Sales Problem
RETAIL: Looking at the tea leaves, UA may have expected this. Nike's basketball category — what most consider a core business for the swoosh, it accounts for roughly 5% of Nike's total sales — was down 1% in wholesale sales for fiscal year 2016. In the current trend now — retro and lifestyle running — performance basketball is being left behind.  "We're very much in a retro fashion cycle today," NPD Group analyst Matt Powell told Marketplace. "Millennials are really flocking to wearing old-school looks."
Dr Pepper buys Bai for $1.7B
BRAND: The deal could turn Bai into a huge threat to Coca-Cola and Pepsi, which have seen soda sales plunge over the last decade as people opt for healthier drinks. While soda sales have plummeted, Bai's sales have soared. Bai generated $120 million in sales in 2015, and this year it's on track to reach $300 million, the company says.
Instagram Makes Live Video Official
MEDIA: The new messaging features, which are beginning to roll out now, essentially make Instagram Direct a lot more like Snapchat in that you can send disappearing photo and video messages to a friend, or groups of friends using the Stories camera. Just like Snapchat, the photos and videos you send to friends will disappear after they see them, though there are no time limits for how long they can be viewed in a single sitting. Instagram will even notify you if someone takes a screenshot or replays your message. Sound familiar?
What's Special about Snap's Spectacles?
MEDIA: It's easy to start and stop recording 10-second videos by pressing a button in the frame. The clips are sent, wirelessly, back to the Snapchat app for sharing. The syncing is a little slow but fast enough. Charging is easy thanks to a clunky yellow case, which charges each pair a few times through a hinge in the glasses. Overall, the product is well-designed, which is more than you can say for a lot of hardware that hits the shelves from startups these days.
Shoppers Project More Spend For Thanksgiving
ECOMMERCE: An independent research company commissioned by Deloitte LLP surveyed 1,223 adults earlier this month and found shoppers plan to spend an average of $400 each during the five days of Thanksgiving through Cyber Monday among online, stores and catalogs, up 8.4% from $369 last year. Consumers say they'll spend slightly more than half (51%) of their money online, down from last year, when they said they'd spend 59% of their money online. Among all consumers surveyed, 87% who plan to shop at some point between Thursday and Monday say they plan to shop online.
What President Trump Will Mean for eCommerce
TRADE: Amazon specifically could face pressure to pay additional taxes. Trump has dubbed Amazon a "big tax shelter," implying that he may examine the prospect of forcing Amazon to pay more in taxes. However, this could be offset by Trump's general policy of reducing the business tax rate from 35% to 15%.The retail industry as a whole will have to navigate the changes in policy. However, for e-commerce companies in particular, higher costs and resistance to automation could limit their ability in the near-term to solve issues with delivery bottlenecks.
Meet Amazon's Brand Central To Combat Conunterfeits
BRAND: One of the people familiar with Brand Central said Amazon has made the project a priority because sellers with their own brands are among its fastest-growing segments and the company wants to support those new merchants. "I do feel very good about the efforts they are bringing forward," said Randy Hetrick, founder and CEO of exercise equipment maker TRX, who said he will be part of a test group for Brand Central. "Conceptually, it's long overdue."
Amazon's Consumers-to-Echo Strategy
ECOMMERCE: The landing page for the specials includes copy that directs Amazon Echo users to say phrases like, "Alexa, what are deals" and "Alexa, order a Star Wars Rebel Fighter" into the device to engage with its AI-powered voice-recognition system called Alexa. Because Amazon wants Echo to be adopted widely by consumers, there will be similar Alexa-only deals for Black Friday and Cyber Monday to go along with its numerous other holiday-based specials. 
US eCommerce Maintains Healthy Growth
ECOMMERCE: Boosting conversion rates will help mobile transform the e-commerce space. Increased mobile traffic is a major opportunity for retailers because mobile enables more frequent contact with the shopper than stores and desktop computers. Once conversion rates rise through tools like buy buttons or one-step checkout, mobile payment volume could skyrocket, helping retailers to capture the major digital sales growth that they've been seeking and competing on. 
3 Mobile Trends Boosting eCommerce Sales
ECOMMERCE: How are apps helping to increase sales? Since they have to be specifically designed for mobile devices, they automatically come with a "mobile-first" functionality that prioritizes speed and a highly functional and easy-to-use search capability. Additionally, apps allow retailers to add features, such as push notifications, that serve as effective reminders that encourage people to shop.   These features may be even more beneficial during the holiday season, when shopping is already at the top of everyone's minds, giving retailers more opportunities to capitalize on Thanksgiving, Black Friday and Cyber Monday promotions.
Surprise: BuzzFeed Getting Into eCommerce
ECOMMERCE: While those results are still kept quiet, Peretti has said that the acquisition has similarities to the evolution of BuzzFeed Motion Pictures. That's the video production aspect of the company that has been received positively by millennials and been good business for BuzzFeed. Peretti said that he's leaning on Kaufman to take his knowledge of Quirky and Scroll and turn it into product development, distribution and marketing for BuzzFeed. This means that BuzzFeed likely has plans to sell things in its own millennial-focused way: through social commerce.
TPP / NAFTA Stances Concern eCommerce Brands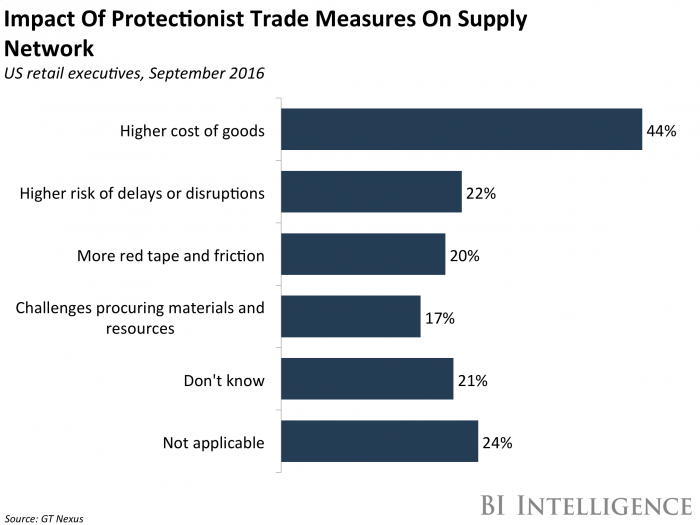 Many retailers and eCommerce companies have come to rely upon globalization. The above poll measures the anxieties associated with the potential rolling back of these laws.