Today's Top Intelligence (10 Reads)
Predictions for the Sports Business in 2017
CAPSTONE: Brands are also making huge innovation gains in "connectedness" and the "quantified self." Helping athletes be better athletes and to share their experiences will continue to be a source of growth for the sports industry. Finally, innovations to the in-store experience will prop up the sinking brick-and-mortar side of retail. Smart stores, contextual marketing, and augmented/virtual reality all have a role to play in slowing the decline of physical retail.
How Luxury Can Revitalize Stagnating Sales
RETAIL: Discounted luxury goods and off-price stores today account for around one third of the market and are expected to increase, the consultancy firm said. The upside of this trend is that outlets can be controlled better by brands than traditional store promotions, which risk to hurt their luxury appeal. In 2020, physical and digital stores will remain the dominant force of the luxury industry as wholesale continues to shrink, Bain said. 
Amazon Creates "Digital Day"
ECOMMERCE: Digital Day, of course, isn't the first time that Amazon has targeted holiday shoppers with digital content deals. But in the past, these deals were launched ahead of Christmas and would end shortly after customers unwrapped their new gifts. This is the first time the retailer has ever offered a single day of more than 1,000 deals on its site, and the first time it has branded the shopping event as "Digital Day." Customers can sign up on the landing page to be notified of the event's launch. Digital Day will run for 24 hours only on December 30th.
11 Trends that Will Shape Southeast Asian eComm
ECOMMERCE: While president-elect Donald Trump is working hard to stop China from becoming a global superpower, China hasn't slowed its digital hegemony in Southeast Asia — and in Southeast Asia, China means Alibaba (of course). After identifying Southeast Asia as being on the cusp of an eCommerce golden age, Jack Ma and his team swooped in four months later and picked up Lazada, the region's leading ecommerce marketplace, for a crisp $1 billion.
2017: The Tides Will Turn In eCommerce
ECOMMERCE: Looking back, a lot happened in 2016. This year was a brutal one for a lot of e-commerce companies. There were a lot of headwinds for e-commerce — starting the year with a lot of negativity around discounts in e-commerce, venture capital funding drying up for most, a slightly muted Diwali compared to 2015, and a cliff fall in the latter part of the year because of demonetisation. 
Bed Bath & Beyond's eCommerce Rise Fails
ECOMMERCE: One of the retailer's essential problems is that it runs a largely old-fashioned brick-and-mortar operation selling goods that have largely morphed into commodities — items consumers buy mostly based on price, and can often find at Amazon. Product differentiation is key to rising above that situation, and to that end, Bed Bath & Beyond recently introduced a new drapery design gallery in select stores and online, executives said Wednesday. 
Snapchat Buys Israeli Augmented Reality Startup
MEDIA: Cimagine Media has raised an undisclosed amount of money from venture capital firms including iVentures Asia and PLUS Ventures. The four co-founders Yoni Nevo, Ozi Egri, Nir Daube and Amiram Avraham, are all experts in computer vision and image processing, so the acquisition will give Snap Inc some top talent. Snapchat is facing increasing competition from Facebook as the social media giant continues to roll out new features on Instagram Stories – its Snapchat competitor.
Your In-Store Customers Want More Privacy
RETAIL: Shoppers want a certain level of privacy in a store — and they want to have control over that privacy. In other words, people generally prefer being left alone, but also want to be able to get help if and when they need it. So when a shopper perceives that an employee is watching them when they don't require assistance, they're more inclined to flee the aisle in order to regain control – and is thus less likely to make a purchase. 
Domino's Goes From Dial-Up to Drones
ECOMMERCE: Meanwhile, restaurants that have dragged their feet on digital are paying the price. Chipotle Mexican Grill Inc. only this month made it possible to place catering orders online, finally upgrading from fax. As the burrito chain struggles to recover from last year's food-safety crisis, its lines are growing not from returning customers but because it's taking longer to simply order and pay. Mobile ordering and payment could help.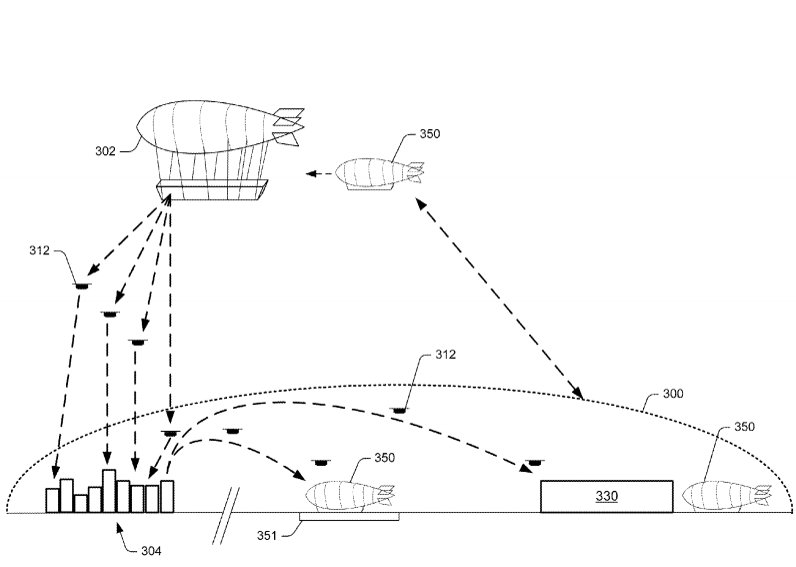 Here are the patents for Amazon's floating fulfillment centers. This is not a drill.

Described is an airborne fulfillment center ("AFC") and the use of unmanned aerial vehicles ("UAV") to deliver items from the AFC to users. For example, the AFC may be an airship that remains at a high altitude (e.g., 45,000 feet) and UAVs with ordered items may be deployed from the AFC to deliver ordered items to user designated delivery locations. As the UAVs descend, they can navigate horizontally toward a user specified delivery location using little to no power, other than to stabilize the UAV and/or guide the direction of descent. Shuttles (smaller airships) may be used to replenish the AFC with inventory, UAVs, supplies, fuel, etc. Likewise, the shuttles may be utilized to transport workers to and from the AFC.
Last Word: The Media/Commerce Stack

Just last issue ("Reshaping eCommerce"), I highlighted TheSkimm as a potential disruptor in the space. I've added a quick illustration to explain my interest in the area. They check a few boxes already: 1, 4. And these two boxes are by far the hardest of the five pillars of the media/eCommerce stack.

Readers must derive value from your platform, such that their is an established trust and they seek to reward you for the value that you provide. Additionally, if they in a subscription system (with payment on file), they are closer to being repeat purchasers.

Amazon illustrates this perfectly: (1) Amazon Prime is a perceived "pay it forward" because of the cost-cutting value that it provides (2) Is there a more efficient 3PL / Drop Ship Hybrid Model in America? (3) They have begun rolling out DNVB's left and right [see this tweet] (4) They have begun competing with iTunes and Barnes & Noble as a media delivery vehicle - free magazine subscriptions and rock bottom streaming prices (5) Their cart software and one-click purchasing functionality is industry-leading in the United States.

So why the media-first angle? Good luck starting off as an eCommerce player and achieving these five principles. It's taken Amazon 20 years and billions of dollars in user subsidies. Most independent and VC-backed media players have begun to address 1, 4. Frankly, I am tired of applauding Amazon but if you keep your ear to the ground, the company does present applicable best practices. In the age when they seem to be coming for it all, the Media/Commerce stack is the best positioned to chart a new path for ad-light revenue growth.