This is issue no. 187. The last issue had a 🔥49.06% open rate with 5.98% of you going to this article on Kith's eCommerce rise.

Brief: How Tech Ate Media and Our Minds
Brief: Ford Invests in Argo AI
Brief: Nike Scores Record High in Granted Patent Applications

I regard it as a big idea, like the smartphone. The smartphone is for everyone, we don't have to think the iPhone is about a certain demographic, or country or vertical market: it's for everyone. I think AR is that big, it's huge. I get excited because of the things that could be done that could improve a lot of lives. And be entertaining.

- Tim Cook, CEO of Apple

Did a colleague forward this email to you? Thank them and subscribe here.
Today's Top Intelligence (10 Reads)
Operator and the Allure of mCommerce in China
MCOMMERCE: Operator is positioning itself to be the cross-board commerce layer between U.S. brands & the Chinese consumers that usually have to travel overseas to get sought after U.S. goods. By focusing their resources primarily in China now, the Operator team can learn what works and what doesn't in that market firsthand. 
Facebook Denies It's a Media Outlet, Users Disagree
MEDIA: Described in different terms, the respondents who answered "Facebook," couldn't remember which specific news outlet produced the news that they saw. In fact, almost 50% of the time, people who got news from links on social media couldn't remember the original source of the news they came across, even just a few hours after they had read it. 
Behind Snap's Marriage to Google and the Cloud [UNLOCKED]
MEDIA: Snap is an important test case for building a large internet company on the back of outsourced cloud computing services offered by third parties instead of in-house infrastructure. But Snap's case is also unique, given the undisclosed special help and discounts it gets from its cloud infrastructure provider, Google. Snap's CFO defended the strategy to employees last month. Snap, unlike smaller companies, can lower costs by playing different cloud vendors off of each other. 


NRF Estimates 8-12% US eCommerce Growth
DATA: The NRF expects that online retail will grow 8-12%, up to three times higher than the growth rate of the wider industry. This suggests e-commerce sales are poised to fall between $427 billion and $443 billion, based on Census Bureau data. That's right on target with BI Intelligence's $436 billion US e-commerce estimate. For context, brick-and-mortar retail, which still comprises the vast majority of sales, is expected to grow at just 2.8%
L'Oréal Capitalizes on Beauty eCommerce
ECOMMERCE: The company's CEO Jean-Paul Agon said it is eager to capitalise on "the golden age of beauty" by taking a more digital approach. L'Oréal's ecommerce sales rose by 33% year on year in 2016, and it now has more than 1,600 "digital experts" and has upskilled 14,000 of its workers. Over 30% of its media spend is now digital, which Agon says has optimised its media efficiency.
Most Publishers Don't Understand Distributed Content
MEDIA: Digital-first publishers like Buzzfeed, Mic , and Ozy have made social platforms and online discoverability a central component of their publishing models, not an afterthought. These publishers are winning the battle for attention with younger generations and legacy publishers may regret not giving distributed content the high-level attention it deserves.
A Game Changer for Luxury eCommerce
ECOMMERCE: Swiss watchmakers have been increasingly embracing e-commerce to reach a younger clientele that's less interested in wearing watches. IWC Schaffhausen, another brand owned by Switzerland's Richemont, made its online debut in November when it began selling its watches on the websites of luxury e-tailer Yoox Net-a-Porter Group SpA. Richemont has hired an executive from Google Inc. to bolster its digital push as its brands catch up with Hermes, which already sells its $25,000 timepieces online.
Hypebeast To Launch Branded Content Studio
MEDIA: The streetwear media company, founded by Kevin Ma in his college dorm room twelve years ago, has evolved over the years into a publishing umbrella focused on youth culture — its other properties include Hypebae, Popbee and an e-commerce platform called HBX. Today, the company boasts an aggregated reach of over 7 million unique visitors and a cross-platform social following of over 10 billion. It intends to harness that audience, along with its extensive industry relationships, which range from Adidas to Pusha T, to help brands regain the cultural relevance it feels they are lacking. (Hypebeast executives were unavailable for comment.)
Amazon Plans Lingerie Private Label
DNVB: Amazon, which has been quite assertive in its apparel push, has become the largest online seller of apparel: Its $16.3 billion apparel sales in 2015 exceeded those of the next five competitors — Macy's, Nordstrom, Gap, Kohl's and Victoria's Secret parent L Brands — combined. Factoring in Amazon's seven-brand private-label rollout earlier this year, it's no wonder Cowen & Co. analysts expect the e-commerce company will dethrone Macy's as the largest U.S. clothing retailer some time this year.
Online Sales Growing 3x Faster Than Retail
ECOMMERCE: The NRF predicts that nonstore sales will grow 8-12% in 2017, compared with a projected 3.7-4.2% growth rate for the retail industry as a whole (excluding automobiles, gas stations and restaurants). The NRF appears to be projecting only modest sales growth for bricks-and-mortar stores in 2017. While NRF did not break out that projection, an Internet Retailer analysis suggests a store sales growth rate of about 2.8% for 2017.  Beyond these growth range projections, the NRF did not release projected sales figures for 2017
Last Word: What Hodinkee Accomplished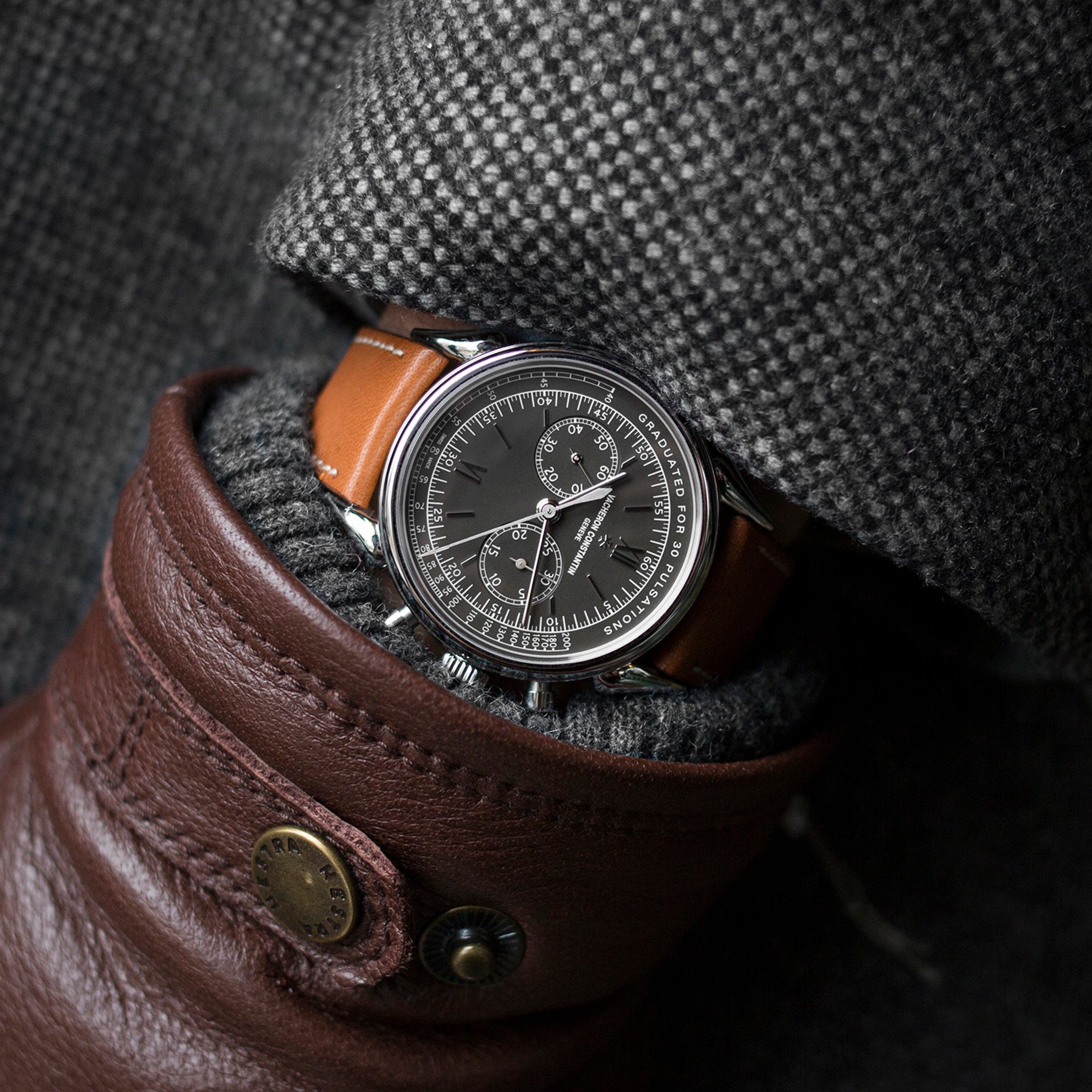 Over at the vibrant LeanLuxe Slack Chat, I banter with luxury business founders or as P. Munford calls them "Modern Luxury Companies." One of their utmost concerns that they have is a changing retail market forcing them to sell higher priced SKU's in online-only environments. For brick and mortar retailers, this can be a frightening shift.

This past week, Hodinkee (a successful watch blog and eCommerce vertical) released 36 Vacheron Constantin watches priced at $45,000 per. All stock was gone within three hours. Absolutely amazing.

From their native coverage of the product:

This 36-piece limited edition is the result of over a year's worth of meetings, conversations, and collaboration between us here at HODINKEE, and the creative team at Vacheron Constantin. Choosing the model on which to base our project was simple. The Historiques 1955 Cornes de Vache is exactly the type of timepiece that we love – a subtle homage to a great piece of horological history, but with several tweaks that make it even more cohesive. Christian Selmoni, Vacheron's Artistic Director and a friend of Ben's since his earliest days in the industry, did a masterful job with the platinum and rose gold watches, adding a tachymeter scale, streamlining the lugs, and carefully refining the proportions of the original piece from 1955.

One of the theses of 2PML is the on-going convergence of media and eCommerce, a practice that I spend countless hours studying and facilitating each week. There are a dozen or so media companies who could build similar operations, working together to achieve positive outcomes. This success was a huge nod for a growing methodology thought to have been extinct after the separation of Thrillist and Jackthreads. The Ben Lerer / Jason Ross eBaby was an early adopter of this practice. It's grown up quite a bit since 2012 and there are quite a few "content commerce" players who are succeeding in the space.  - @web