This is issue no. 190. The last issue had a 🔥 48.92% open rate with an additional 5.17% of you going back to this article on four eCommerce strategies that seem to be working. I wasn't a fan of the hyperbolic headline but the methods seem to be sound.

The Atlantic hit a home run with their latest ad. It features actor Michael K. Williams portraying himself and a few of his character composites (including "Omar" from The Wire). It's a poignant use of creative to generate subscription interest and revenue for The Atlantic. And as heritage media companies invest more in traditional advertising and great content to improve their sales funnel, we'll see more of this from the likes of the Washington Post, the New York times, and savvy magazines who are producing ads to generate subscription revenue as ad revenue becomes less and less reliable. Now that I've provided context, read and watch this: Am I Typecast? [NSFW]

In a recent comment to 2PML, The Atlantic's Vann R. Newkirk II:

I think the video with Michael K. Williams is more than just an advertisement; it was a way for us at The Atlantic to announce our goals of questioning conventional wisdom and promoting rigorous, thoughtful journalism while also doing just those things in the video itself. I think people are enjoying it so much because not only is it amazingly played by Williams, it also leaves us with a question to ponder. Especially with the urgency of conversations about race today, I was really happy we produced this, because it reflects an internal monologue that I and many other people of color have everyday. It just does so many jobs.

Did a colleague forward this email to you? Thank them and subscribe here.
Today's Top Intelligence (12 Reads)
How Zombie Retailers Are Dragging Down the Industry
RETAIL BLOODBATH: Amid these treacherous conditions, some companies have been harnessing creative financing techniques, for example taking part in distressed-debt exchanges, the Journal reported. Investors, who take a haircut by agreeing to these exchanges, have simply refused to throw in the towel in some cases. Many of them are holding onto hope that the retail industry is suffering not as a result of secular decline, but because of more temporary factors. 
Google Assistant Goes For Voice eCommerce
VOICE FIRST: Google has done a number of things already to pursue Amazon's mantle as the giant of e-commerce giants, but it's always been doing just that — pursuing Amazon, with the latter clearly in the lead. It's not clear what took Google so long to take this particular step -- perhaps it took a while to come to mutually acceptable terms with the retailers involved? — but in any case, it's about time.
Ralph Lauren taps its first CMO
BRAND: Ralph Lauren Corporation has hired two new senior executives, further solidifying its leadership team in support of its Way Forward Plan, the company said Thursday. Jonathan Bottomley has been named chief marketing officer, a newly created role responsible for evolving Ralph Lauren's brand voice, leading the global marketing team and building cut-through marketing strategies across brands; he begins work April 3.
How AI is Fighting Fraud
DATA: Artificial intelligence, and specifically a type of AI technology called machine learning, can bring a new weapon to this fight. While in the movies, intelligent machines often wear black hats (cases in point: HAL 9000, The Terminator and Transformers), in reality artificial intelligence can be deployed in many positive and productive applications, including fighting the guys in the black hats.
5 Types of Activism Every Brand Should Prepare For
BRAND: This situation goes far beyond the Super Bowl. Many brands have recently found themselves in the middle of political debates, and even if a brand isn't taking a side—its consumers still are. Welcome to the "activist economy," where a brand's value and values are now becoming intertwined and indistinguishable. And it's not limited to consumers of brands, but also a brand's employees, partners, representatives and even the brand itself.
Under Armour Once Had a Cool Brand
BRAND: While Plank found himself entangled with Trump, Nike debuted an ad campaign called "Equality" during the Grammy Awards telecast. In black-and-white footage, it features LeBron James, who famously had his teammates in Miami take a photo in hoodies to protest the killing of Trayvon Martin. It shows Megan Rapinoe, the soccer star who knelt during a playing of the national anthem in solidarity with Colin Kaepernick. It visits Dalilah Muhammad, the Muslim American who in Rio became the first U.S. woman to win Olympic gold in the 400-meter hurdles.
Hyundai's Genesis Brand Tees Off at The Riviera
BRAND: Golf may be considered an elite sport, played on pricey real estate by people who can afford the leisure time to devote hours to a round at their favorite course. But the sport also is trying to reposition itself a more accessible to people of more modest means. Hyundai, conversely, is a brand for the masses – while Genesis aspires to crack a market dominated by BMW, Mercedes-Benz, Cadillac, Lincoln and Lexus.
Retail Has Reason to Hate a Border Tax
RETAIL: And American consumers -- as well as tourists who come in droves to shop here -- have gotten addicted to the low prices. The 2008 financial crisis, the onslaught of low-priced fast fashion, the proliferation of outlet centers and off-price retailers such as T.J. Maxx, and the price transparency fostered by e-commerce retailers such as Amazon only deepened that addiction. 
Amazon and Walmart Compete for eCommerce Dominance
ECOMMERCE: The two companies are preparing to face off on Amazon's turf. Walmart just ended a subscription program and now offers free two-day shipping on any purchase above $35. This is a direct shot at Amazon Prime, which offers free two-day shipping for a membership fee of $99 a year. In addition, Walmart has a free "ship to store" pickup option. Previously, Walmart offered free shipping for purchases over $50 but with a delivery window of 4-6 days. 
Is Casper Setting Tone For Mattress eCommerce?
ECOMMERCE: A report from Bloomberg noted that even as conditions are prime for mattress buying — the economy is good, and consumers are obsessed with wellness — traditional players in the space are having to work harder to keep pace against new entrants and changing shopping behaviors. When looking for a mattress, consumers no longer feel obligated to shop in-store. This is in part due to a wave of new manufacturing startups selling mattresses online, including Casper, Helix Sleep, Saatva, Tuft & Needle, Leesa Sleep and Purple.
These Brands Have Mastered Content That Sells
MEDIA: "In the world of hype, in the world of cool, you need to be the coolest platform selling the coolest products," says Kevin Ma, the unflappable founder of the Hong Kong–based streetwear site Hypebeast. Championing edgy brands such as Raf Simons, Vetements, and Hood by Air, Ma's site has grown from a simple sneakerhead review hub (created in his Vancouver bedroom) to a multifaceted arbiter of all manner of urban fashion and culture.
The WSJ Nixes Fashion and Culture Columns
MEDIA: The Journal, which restructured its newsroom late last year, has done away with Teri Agins' fashion column "Ask Teri," Marshall Heyman's party column "Heard and Scene," Christina Binkley's "On Style" column and Elizabeth Holmes' style column. It couldn't be determined if all the writers were offered buyouts, but the changes at the Journal are part of a larger reorganization of its arts and culture coverage, as well as select business sections.

The package delivery system can apply the force onto the package in a number of different ways. For example, pneumatic actuators, electromagnets, spring coils, and parachutes can generate the force that establishes the vertical descent path of the package.

- Amazon Patent for parachute delivery via Drone, USPTO 
Last Word: On proprietary products and eCommerce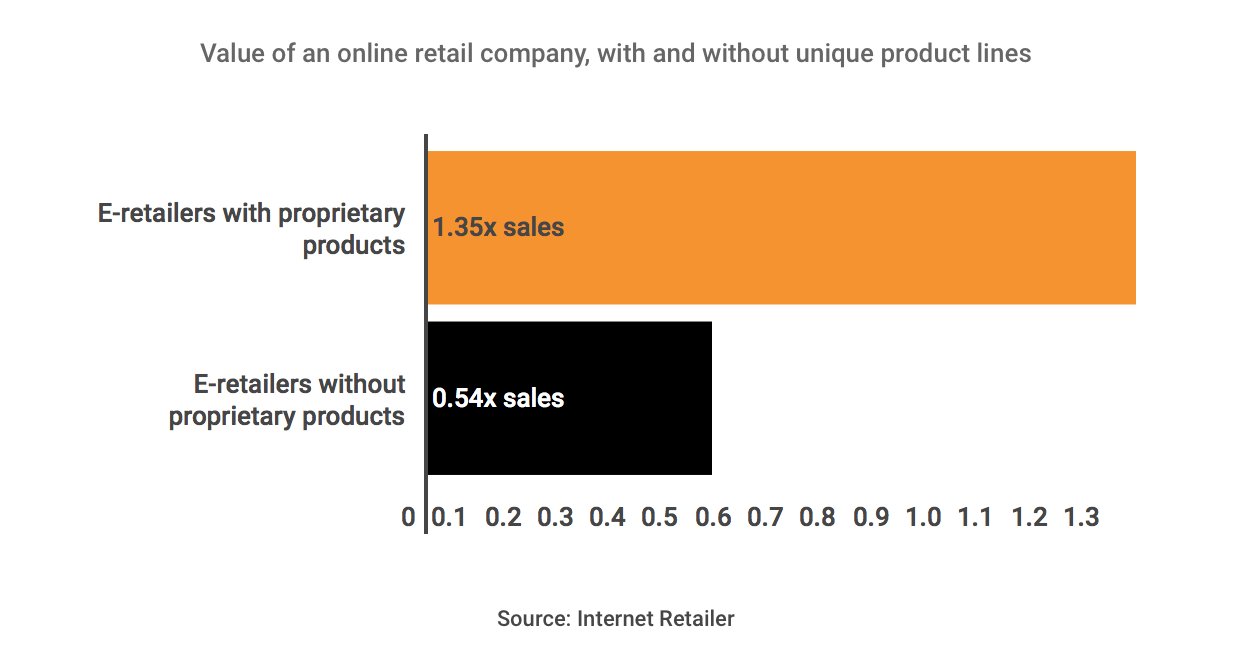 Issue 189's most read article contained four indicators of eCommerce success, one of them is depicted above. Internet retailers are nearly 3x more valuable when they source and/or manufacture a product that cannot be found elsewhere.

A great example of this is the new initiative of Pittsburgh's Cotton Bureau, who is relatively quiet startup with a thriving marketplace for well-designed tees. For example, they sold 3,100+ units of one design in January 2017. Their custom site converts exceptionally well, they're currently sporting a 🔥7.7% conversion rate in 2017.

Led by Michelle Sharp, Cotton Bureau's Blank will manufacture their own t-shirt blanks and will attempt to do so domestically. The timing couldn't be better, as American Apparel will leave a void for companies desiring high quality t-shirts for their own branding or product lines.

From yesterday's announcement:

Today, we're lifting the lid on Blank, our project to design and produce better t-shirts from the ground up: our sizes, our fits, our fabrics, our colors. Over the last six months, we've been building relationships with people all over the garment industry: pattern makers, fabric suppliers, cut-and-sew operations, industry consultants, full-service apparel factories, fit models, and more. We've even produced a few samples. We're going to need all the help we can get, which is why reached out to Indie.vc for funding last year (remember this cryptic line?) and hired a project lead to give it the attention it deserves (we'll introduce her in a bit). Exciting, huh? It's something we've been talking about forever, and the fact that it's actually happening is a bit surreal. Let's answer some questions.

Read more about Cotton Bureau's "Blank" initiative here. If you'd like an introduction, email web@2pml.com and I'd be happy to connect you to their team. Cotton Bureau is one of four partners. - @web