This is issue no. 192. The last issue had a 🔥 47.82% open rate with an additional ⚡️ 9.59% of you going to this article on how to build a digital brand. I haven't seen that much traffic to an article in a while.

For the past 10 years, we've operated on the premise that the most important digital metric is the click that refers a person to a website. That click usually comes from a social distribution channel, like Facebook or Twitter, or a search engine, like Google or Bing. But according to industry experts, the click referral is becoming an idea of the past, soon to be replaced by content exposure.

- Read more at Axios by Sara Fischer

Did a colleague forward this email to you? Thank them and subscribe here.
Today's Top Intelligence (12 Reads)
Salesforce.com Dives Deep Into Retail
DATA: Before acquiring Demandware, Salesforce would only help manage sales leads and sales pipeline data via its Sales Cloud or help in targeting the right customers via its Marketing Cloud or help businesses and their customers resolve service issues via its Service Cloud. Demandware acquisition inserts Salesforce into managing and completing its customers' in-store and e-commerce sales transactions. 
Jordan Brand Brought Style and Substance
BRAND: Equally as impressive as the pop-up space was what the Jordan Brand put together some fifteen minutes north of the French Quarter at Saint Augustine High School. In a year that the NBA moved All-Star weekend from Charolette in protest of North Carolina's HB2 bill, the spotlight on awareness could not be brighter. Jordan sought not only to be involved with the community, but to be immersed in it.
Affiliate Marketing: Time to Adopt Attribution Rules?
DATA: Affiliates are discouraged when they learn of reversed commissions because the customer clicked on, say, a merchant's newsletter in the previous 90 days. This method benefits the brand, by reducing commissions, but it does not encourage long-term affiliate partnerships. Affiliates need to know they are valued.
How Logo Color Can Affect Brand Perception
BRAND: The use of color can be a powerful way to guide the associations consumers have about a brand, but how and why certain colors are used can often be perplexing. The color red is the perfect example. When it is used as a primary color for McDonald's (MCD), red is meant to energize and attract the attention of potential customers.
The Superfriends of Marketing
BRAND: In another tactic that is becoming increasingly popular in Hollywood, the film's star did more than execute promotions and marketing dreamed up by others. Warner Bros. gave Mr. Arnett concept ideas, and he would often improvise and lend his own voice to the social media effort. That follows in the footsteps of another masked-hero movie—last year's "Deadpool," in which Ryan Reynolds promoted a significant amount of content through his own social media outreach.
Here Comes Walmart
ECOMMERCE: Since August 2016, Walmart has acquired e-retail sites Jet.com, ShoeBuy.com, and Moosejaw.com, which positioned the company for strong fourth-quarter e-commerce growth. Online sales at US Walmart stores—which includes sales from Jet.com—grew 29% since the same quarter in the previous year. (Because ShoeBuy.com, and Moosejaw.com were acquired in 2017, their contribution to Walmart's e-commerce sales won't be reflected until 2018.)
Amazon Backtracks on Free Shipping Minimum
ECOMMERCE: With Jet.com CEO Marc Lore now in charge of Wal-Mart's e-commerce operation, it should be no surprise that the company is getting aggressive. For Wal-Mart free two-day shipping on orders over $35 will be expensive, but it makes Amazon's non-Prime free shipping offer look far less generous. Even with the lower $35 minimum, Amazon's free shipping still promises delivery in five to eight business days.
The Future of eCommerce Special Report [.PDF]
ECOMMERCE: The Future of eCommerce special report, published in The Times, addresses the challenges brands face when selling online and offers expert advice on how to tackle these issues. The report investigates how brands can compete with Amazon, why social media is transforming shopping and ways to harness the power of automation. In addition, Alibaba's UK business development director reveals what makes Chinese consumers click
Alibaba Explains What Makes The Chinese Click
ECOMMERCE: For high-end retail there is Tmall. "It's like Westfield shopping centre on the internet," says Mr Lloyd. "It is the home of large successful brands where they can connect with Chinese consumers." And for smaller sellers there is Taobao. Like eBay, it's where individuals and micro enterprises can sell direct. Whereas Tmall goods are of guaranteed quality, Taobao is a bit wilder and less policed.
Alibaba's Tmall Maintains eCommerce Reign
ECOMMERCE: Both Alibaba's Tmall and JD.com are taking advantage of an ecommerce market in China that shows no signs of slowing. iResearch estimated that the gross merchandise value (GMV) of B2C ecommerce in China totaled RMB4.7 trillion ($707.5 billion) in 2016, up 23.9% from RMB3.8 trillion ($572.0 billion) in 2015
Explaining The Reimagined Digiday
MEDIA: Digiday's focus is on the modernization of the media and marketing business. Many times this is viewed through silos: mobile, video, social. But in reality, there's media (those who create audiences through content or software) and marketers (those who want to sell things to those audiences). We feel like this simple division is a way of cutting through the noise.
Why I'm leaving Snapchat
MEDIA: Instagram, somehow, has innovated on Snapchat's core ideas at an incredible clip: instead of making you see a story sequentially, you can tap either side of the screen to skip forward or back. You can swipe to get between stories, creating what amounts to an endless loop of content, or you can tap and hold to freeze-frame it on what you're seeing.
Last Word: an unbiased look at mid-market eCommerce momentum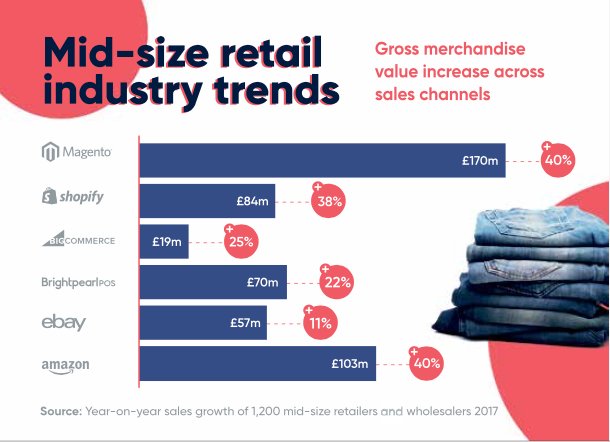 Despite the agency-based hype train, there is no outright platform monopoly on mid-size retail brands. Download and review the "Future of eCommerce special report" for additional perspectives on the state of the union and what's to come. 

The report was a great reminder that, often, decisions should be made with hard data. For brands, these are the questions that you should seek clarity on:


Which eComm platform should I use to distribute my product?
How do I find the best brand or media partners?
Should I hire and develop in-house or should I outsource it to a development partner?
Should I integrate apps or should I build our own?
Which industry data should I use and from what sources?
What's happening at a macro-level and how will affect our trajectory in the coming quarters and/or years?
How do I use what we know about the happenings in data, media, eCommerce, and brand "best practices" to best position ourselves for steady growth?