This is issue no. 92 of 180. Last letter saw a 41.6% open rate with 11.48% going to this article on Uber shareholder's illiquidity.
Today's Top Intelligence (12 Reads)
Attacking Groceries: 91 Startups
BRAND: With increased global focus on health and natural eating, smaller food companies have grown in recent years — a Boston Consulting Group report found that CPG companies with less than $5B in sales gained 2.7 points of market share since 2011 — representing $18.1B in aggregate sales growth. BCG also noted that in 2015 the industry saw its fastest growth rate since 2012. 
Why I Was Wrong About CRM
DATA: CRM fundamentals still play a critical part in understanding the behaviors, attitudes and needs of customers. In fact, to ignore vital CRM principles while trying to take advantage of in-the-moment concepts could be viewed by the customer as disingenuous at best, and at worst, self-serving. In that sense, executing an in-the-moment strategy isn't possible without first adhering to five foundational mechanisms.
Google Expanded Text Ads Are Live
DATA: As of October 26, 2016, advertisers will no longer be able to create or upload standard text ads. Google has not set a date when standard ads will no longer run with ETAs, but Jain noted advertisers should have sufficient time to test standard and expanded ad formats against each other to ensure they are properly using ETAs. In other words, the expectation is that advertisers will run A/B tests with standard and expanded text ads for a period.
Twitter's F***ed
MEDIA: The root problem with Twitter is that the product is carefully engineered to cultivate maximum violence. Not intentionally, of course, but rather through a combination of early product decisions that were not re-visited, together with blind optimization of Twitter's game mechanics toward vanity metrics. Twitter's cultivation of violence, in turn, affects user engagement, user churn, the demographics of Twitter, and numerous other factors that have resulted in Twitter's total failure to become a behemoth of social media.
AOR on Facebook Jumps 75% in Q2
MEDIA: One format retailers are using as they boost their spend is with the social network's dynamic ads, which let retailers and other advertisers serve shoppers ads based on the products they looked at on the merchant's site or app. Online retailers boosted their dynamic ad spending 14% compared to the first quarter. The average click-through rate for Facebook ads for Nanigans' retailer clients stood at 1.27% in the second quarter of 2016, up from 0.87% in the same period a year earlier.
56% of Searches Are Mobile
DATA: The majority of online retail searches are made by consumers on their mobile devices, according to a new study from web measurement firm Hitwise, a division of Connexity Inc. 56% of online retail searches are made on a smartphone or tablet, according to the study, which looked at hundreds of thousands online search queries across 3.5 million smartphones and tablets between April 10-May 7 and made by consumers based in the U.S., the U.K. and Australia. Hitwise considers smartphones and tablets as mobile devices.
She is Headed For $1 Billion
BRAND: Between her savings, her independent retailers, and the distributors, Kauss has never had to seek outside financing. She hasn't even had a credit line from a bank, and owns 100 percent of S'well. She believes it's been helpful not to have had investors, because she's had the freedom to turn down partnerships, even those that might look promising to others. Target wanted to collaborate with S'well two years ago, but Kauss said no, because she didn't think the company could handle it.
Amazon Launches Kickstarter eComm
ECOMMERCE: The new Kickstarter section is actually an expansion on Amazon's Launchpad platform, launched a year ago. In July 2015, the retailer debuted a dedicated portal that offered both marketing and sales for hardware and physical goods from younger tech companies. It said at the time it was working with over 25 VC firms, accelerators and crowdfunding platforms to source the products for the new site, including big names like Andreessen Horowitz, Y Combinator, and Indiegogo, for example. The online store had over 200 items at the time of its debut.
Inside the Enormous Tesla Motors Gigafactory
INNOVATION: The Gigafactory is where Tesla Motors will build the batteries that power its electric vehicles. The company has long imported batteries from Asia, but if it is to meet its CEO's goal of producing 500,000 cars a year, it must build those batteries here. 
Marketing Report by Demandware [UNLOCKED]
ECOMMERCE: This report analyzes mobile in the following key areas: shopper context, shopper experience, shoppping intent and conversion, and retail operational evolution. These pillars represent today's digital retailing, and how leaders in the space approach mobile shopping.
Marsbot Is Dreaming of You
DATA: Foursquare's deep knowledge of location, knows you've been in the office all evening. Also, it is aware you have not eaten dinner. Both you and Marsbot know it's an hour when food choices narrow. You like Mexican food, a preference that Marsbot can't help but notice because of the profusion of cantinas in your weekly peregrinations. Your phone vibrates. You look at the lock screen. It's Marsbot.
Preparing For a Mobile-Only World
ECOMMERCE: Retailers can expect to see online shopping evolve into a "mobile only" space, Kenney said. By 2019, EMarketer expects 71 percent of U.S. consumers will have a smartphone, compared with today's 59 percent, and Demandware predicts that by the fourth quarter of 2018, phones will outstrip computers for online order placements by about 13 percent. Retailers already are rapidly approaching a mobile-only world.
Graphic of The Week: Moving To A Mobile-Only World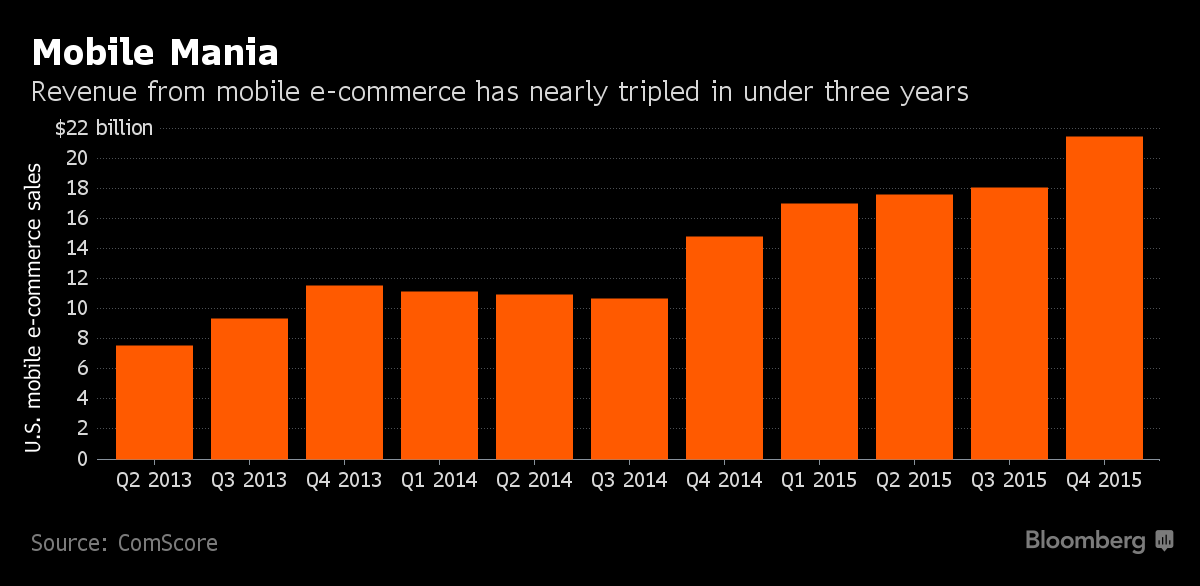 A mobile-only world means more brands with native shopping experiences. Here are the Shopify Mobile SDK's on GitHub: iOS / Android. An app that has executed this well? Spring. Read more about their recent improvements. Several brands have begun building unique versions of the same system.