Today's Top Intelligence (10 Reads)
The Fifth Element Of Digital Maturity
BRAND: One statistic that jumped off the page for me in this report and made me want to dig a little further was this: "Thirty per cent of all organisations surveyed say, yes, their digital efforts have definitely differentiated them from their competitors." Only 30%? Even if you ignore the subjectivity of the self-assessment, a 30% success rate, given all the work and investment going on, is pretty disappointing, isn't it? If digital is mainstream, and maturity, investment, and efforts are going up across the board, how come we're not better at it?
How To Make Your Digital Brand "Likable"
BRAND: The principle of likability, though, at least in terms of persuasion, was popularized by our social psychology icon, Dr. Robert Cialdini. According to Cialdini, it's a very meaningful persuasion trigger, affecting the chances of you influencing someone else. In his context, liking can be based on a few factors: how similar you are to someone, how attractive a person is, if you like their smile, or a variety of other factors. Again, it's quite nebulous, especially when you get into in-person persuasion and charisma (so many books have tried to define this and it's still not well understood).
Brands Look To Capitalize On eComm Boom In China
ECOMMERCE: Before investing big on inventory, however, organisations must first develop a brand presence that resonates with Chinese consumers. "Marketers coming into China with hopes of profiting on e-commerce must be willing to first make the investment in branding," Lin said. "Otherwise, it's a waste of time and money."
Amazon launches Buttoned Down Men's Fashion Line
DNVB: Amazon Men's Fashion Editor Warren Satchell said in a statement that the new effort is "to make high quality apparel more accessible" for customers. "Whether he's wearing it with a suit and tie, or just tucked into jeans on a casual Friday, Buttoned Down is a no-fuss, reliable option that guarantees effortless style and great value," Satchell said.
10 Trends That Will Define the Fashion Agenda
RETAIL: Although growth improvement is anticipated for the luxury and mid-market players, they are still expected to underperform in terms of both overall industry growth and their own historical growth. Anticipated growth rates in 2017 for the luxury and mid-market segments are 1.5-2.5 percent, approximately half the rate they achieved from 2005 to 2015 (6.0 percent CAGR for luxury, and 5.0 percent for mid-market). Nevertheless, this is still an improvement over 2016. Both segments should benefit from the rise of fast-growing e-commerce players, particularly in the mid-market. 
Magic Leap is Actually Way Behind, But We Knew That
VR / AR: According to The Information, Magic Leap still has not been able to get the fiber scanning display to work. It has since demoted it to a long-term research project. "You ultimately in engineering have to make tradeoffs," Abovitz said in the interview. Still, the company's latest prototype appears to be the size of a standard pair of glasses. It's known internally as the PEQ, for product equivalent, and yet Magic Leap declined to demonstrate it for The Information. Abovitz claims it is only slightly less capable than the earlier, tethered prototypes, but denied that it now uses technology similar to the HoloLens.
Why Wish eCommerce App Works Magic
ECOMMERCE: Currently, Wish does $2 billion in sales and gets a 12 to 15 percent cut. Peter Szulczewski, CEO of Wish, said he thinks the company's apps could eventually surpass $1 trillion in gross sales. A past investing round raised on the order of $500 million in 2015 and included investments from DST Global, GGV Capital, Founders Fund and Chinese eCommerce giant JD.com. Wish is now valued at higher than $3.5 billion but below $5 billion.
Does Visual Search Improve eCommerce Conversions?
PRACTICAL ECOMM: Visual search is perfect for omnichannel uses. Shoppers can take a photo of a product, find matching products from a brick-and-mortar retailer's mobile app, and then pick up the item in the physical store. Unfortunately, none of the retailers I tested that have a physical presence tried to send me to a physical location to pick up the products in the search results. This is a lost opportunity to generate revenue as integrating the physical location based on product availability and proximity to the customer can increase the chances of closing the sale.
Drone Delivery Marketplace May Transform eCommerce
ECOMMERCE: Although Alibaba, Amazon or JD.com can launch drone services for its own deliveries, Alphabet's Wing Marketplace offer this on a much larger scale. This is because not every e-commerce portal or even traditional retailer going online can afford to invest money in drone technology and have their own branded drone delivery service. Once the idea is placed on a marketplace model, drones will be available for any company that wants to use this service. Just like traditional deliveries, the economics of delivery in the case of drones are driven by route density and drop size.
Graphic: The Fitness Shoe Wars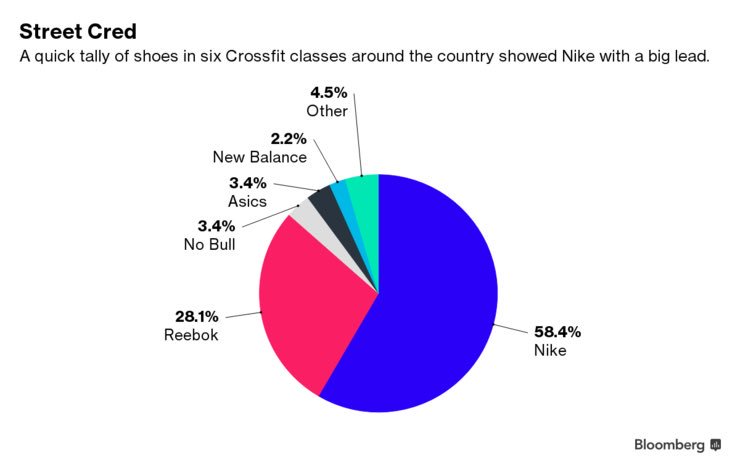 Reebok had the head start and execution but Nike had the cool. Read more in Bloomberg.