Today's Top Intelligence (10 Reads)
Adidas is Yahoo Finance Sports Biz of The Year
BRAND: Indeed, if you ask the sneakerhead community, the lion's share of the positive buzz is thanks to Kanye West. "I think Kanye has positioned Adidas in a great new place," says Brian Quarles, executive creative director of creative agency Revolution. "Before they brought him on, there was a lot of groundwork with Pharrell, [Russell] Simmons, other rappers, yes, and it set Adidas up to be the cool-kid brand, but without the exposure Kanye brings. And then when Kanye comes in, that did it.
Why Smith & Wesson Changed Their Brand Name
BRAND: Smith & Wesson Holding shareholders just overwhelmingly approved a change in the company's name, so that on Jan. 1, the gunmaker will instead be called American Outdoor Brands. Since its corporate identity stretches all the way back to 1852 and encompasses a brand that is not only well known in the firearms industry (and in some ways is synonymous with it), but is also identifiable by most people outside of the industry, it's a move that shouldn't be taken lightly.
Decoding Inspiration and Innovation
ECOMMERCE: Shopify is a leading cloud-based commerce platform designed for both startup entrepreneurs and mega-sized merchants like Tesla and Google. Tobi Lütke cofounded the company in 2004 originally as an online snowboard shop but soon realized the potential of his retail software.  In the 12 years that followed, much has been accomplished for Tobi, both personally and professionally. He is a husband and father of three, while Shopify has grown into a publicly traded corporation valued in the billions with nearly 2,000 employees across five cities. 
The Information's Person of 2017 [UNLOCKED]
MEDIA: While some companies might be looking for ways to catch up to Facebook, Snap is doing the opposite. It has avoided changing its app to appeal to the broadest possible audience, preferring to stick with its core group of teenagers and 20-somethings. Snap is making the case to potential public investors that its relatively smaller number of daily users is a positive. These are high-value audiences, Mr. Spiegel and his top lieutenants are saying, that can ultimately deliver much more revenue per user than a company like Facebook.


A Slimmed-Down Birchbox is Beating Holiday Goals
MCOMMERCE: Mobile is increasingly important for Birchbox as its customer base skews young and many of these shoppers are eager and willing to shop on mobile devices. From Thanksgiving to Cyber Monday, 54% of the retailer's sales stemmed from shoppers buying from Birchbox's mobile site or app, marking the first time mobile sales surpassed desktop sales. Those mobile sales have been bolstered by the retailer's marketing strategy, which is heavily focused on social media—and targeting ads at consumers on their mobile devices, Beauchamp says.
Is Above the Fold Really That Important?
MEDIA: As most of you know, above the fold originated from the world of print. It's the upper half of the front page of the newspaper where the top story is typically placed. The idea is that the story above the fold gets the most attention. While Sarah might not read the entire paper to find out what's on page 8, she will likely read the front page story (or, at least, the headline). Online, above the fold is the content that displays on a site without requiring the visitor to scroll. Once again, the idea is that this content gets the most attention.
How to Stand out as an Online Retailer
ECOMMERCE: In a 2015 study on mobile shopping, 45% of internet users in Asia-Pacific and 20% of those in North America did their online shopping via mobile device using smartphones and tablets. In this age of cell phones, customers prefer to shop through the phone because it is easy and convenient. If you intend to succeed, you must have a mobile version of your online store; one that is user-friendly and easily supported by mobile versions of standard browsers.
Nordstrom Tries to Cut Down on Returns
ECOMMERCE: Nordstrom Inc., fighting to stay relevant with consumers who are shifting their spending online, is letting shoppers digitally send each other presents this holiday season. The upscale retailer has partnered with CashStar Inc., which provides the software that retailers use for physical and digital gift cards, to let customers e-mail specific items from the retailer's website to people on their holiday lists. 
BuzzFeed CEO: The Internet Always Wins
MEDIA: Realizing how the industry is different as a result of the Internet is the core of Peretti's letter. The answer, in a nutshell, is that it is different because social media and the democratization of publishing allow users to play a role in the process that is unlike anything else we have seen since the earliest days of traditional media. Peretti, who has probably spent more time trying to understand the viral spread of Internet content than just about anyone else in the world, describes this process in a series of graphs.


Why We Are Obsessed With Voice Control
VOICE FIRST: Those systems, Google Home and Amazon Alexa, let users to control anything compatible in their homes—their lights, thermostats, security systems, entertainment centers, and more—via voice control. Which is all pretty standard: Apple's trying to do the same thing with Siri and HomeKit. But Zuckerberg's key observation isn't that people want to be able to control their homes by voice. It's that they also want to be able to control their homes by text. 


Graphic of The Week: Adidas v Nike v Under Armour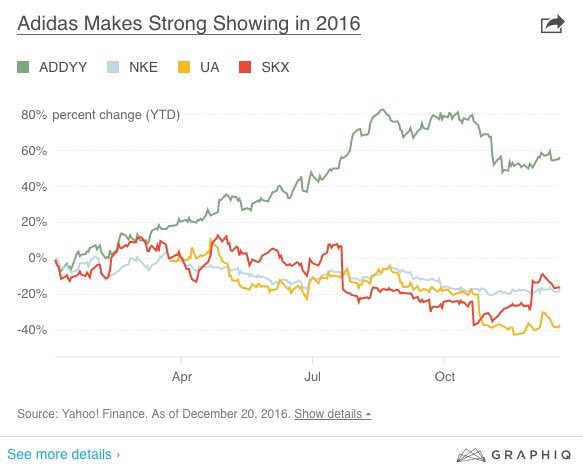 The first link of the day points to a recent article by Daniel Roberts, of Yahoo Finance, who does a wonderful job of explaining the influence and execution behind Adidas' resurgence. Matt Powell of the NPD Group, who is fervently against the Kanye theory is cited several times in the article but he provides a meaning full perspective - as always.

As it relates to the macroeconomy of shoe wear and athleisure, here is another insightful bit from Matt:

E-commerce, which is already a force in the industry, will continue to rise. According to NPD research, one-in-four athletic shoes were sold online last year. Over time I expect that contribution to rise to two-in-five. The physical limitations of brick-and-mortar stores will continue to drive this growth.

Retailers will quickly figure out that 'buy online, pick up in store' will be another way to leverage e-commerce to help save physical stores. Retailers will use this additional store visit to create add-on sales. (Read more at this link)

Additionally, since today's email was so late, it allowed me to include a link to commentary on Nike's earnings call which led to a 3+ % stock jump today. Despite Yahoo's praise of Adidas, the German brand is nowhere near out of the woods. Just today, I visited a specialty running store and saw, for the first time, the Nike International collection. This is Nike's attempt at high fashion athleisure - a space that Adidas was primed to rule within. There are several forces at play here: changes in eCommerce behavior, shifts in athleisure appeal, the shift from the athletic shoe to the lifestyle shoes, and frankly, the commoditization / normalization of synthetic fibers in clothing. Every athletic brand wants to be a fashion label and every fashion label wants an athleisure arm.