This is issue no. 179 of 180. The last issue had a 💪🏽 50.39% open rate and a 🔥 37.16% engagement rate with 7.11% of you visiting this deck by Benedict Evans on software eating the world, the slides begin with the eCommerce commentary.

BRIEF: Retail CFO's now have the third greatest turnover by 2PML reader Shelly Banjo of Bloomberg. Six agencies that started their own brands by 2PML reader Dylan Whitman of Brand Value Accelerator. 

The only reason Sears Holdings has been able to absorb these losses and stay in business is by selling and spinning off numerous assets -- mainly real estate -- to raise cash. With losses continuing to mount, Sears continued down this path last week, selling the venerable Craftsman tool and lawn care brand to Stanley Black & Decker.  (Information via The Motley Fool)

The last issue of Vol. 1 of 2PML is coming up! Can you ask one colleague to subscribe here? 
Today's Top Intelligence (12 Reads)
Nike to Open Inside JCPenney
BRAND: Evaluating a business's future potential will often come down to a simple question: are the business's cost structure and sunken costs an advantage or disadvantage? If it's the latter, the company is in trouble. Retail isn't dying. The underlying cost structure is just rapidly evolving. JCPenney announced Tuesday that it is featuring designated Nike shops within over 600 of its stores. The 500-square-foot areas are located within JCPenney men's departments. 
Facebook Stops Paying Publishers
MEDIA: For a while, Facebook was obsessed with live video -- it even paid publishers to make sure there was a steady flow of professionally-shot streams on offer. However, Zuckerberg and company appear to be tempering their enthusiasm a little bit. Recode sources understand that the social network is "de-emphasizing" Facebook Live when it talks to publishers, and isn't expected to renew the pay-to-stream deals it struck in 2016. Instead, the focus is reportedly on long pre-recorded videos.
Brand Your Startup Like Ralph Lifschitz
BRAND: Branding small businesses is nothing like branding huge global brands, but these brands certainly have lessons to teach us. All of them started with a simple badass mission and a narrow focus rife with game-changing vision. Just learn those lessons from where they started, not where they are now.
Consumers Differ On eCommerce, Physical
ECOMMERCE: Kees Jacobs, retail lead at Capgemini, was quoted as saying in the study: "What is clear from this report is that [stores] still have a big role to play, but the industry is going to see a fascinating struggle take place in the next few years to decide what exactly the new breed of retail store looks like."
How CPG Must Approach eCommerce
ECOMMERCE: We all learned the product life cycle: First you get to trial, then habit, then brand loyalty. All of these things can happen in one fell swoop online, or they can be separate. How are you as a CPG brand making the buying decision as frictionless as possible? Brands must do the same thing they've always done—intrigue and seduce consumers into being interested in a product—but provide closure by giving them an easy path to buy the product in the moment.
Walmart Ratchet's up eCommerce Efforts
ECOMMERCE: Having co-founded the online marketplace Lore was made head of online operations at Walmart following its purchase whereupon he has introduced a new management structure geared toward prioritizing data analytics and shared product purchasing. In doing so Walmart will combine its network of warehouses and distribution centres with those of its online arms. This strategy will knit together disjointed brands such as furnishings specialist Hayneedle and Shoebuy.com to eliminate costly overlaps.
AR Will Shape the Future of eCommerce
ECOMMERCE: eCommerce companies should be taking feverish notes: A recent demonstration of AR technology by Florida-based startup Magic Leap showed one way retailers might integrate AR technology into an e-commerce environment: The demonstration showed how a user could superimpose virtual models of lamps and other room décor atop a real-world dresser, with the digital objects shown to scale, to help the user determine how those items might look within the space.
H&M Monthly Sales Lagging Forecasts
BRAND: H&M, which has the bulk of sales in Europe, has in the past year blamed several monthly sales misses on unseasonable weather. Like its rivals, H&M has underperformed Inditex, partly because the Zara owner has a supply chain that enables it to react more quickly to shifts in demand, making it less exposed to variations on weather. H&M will publish its full earnings report for its fiscal year through November on Jan. 31.
Canada Goose Plans IPO
BRAND: The Toronto-based retailer, backed by Bain Capital and known for its trademark $900 parkas with coyote fur-lined hoods, is aiming to go public in February or March, said the people, who asked not to be identified because the information is private. Canada Goose is planning on selling 10 percent to 15 percent of the company to the public in both the U.S. and in its home country, said one of the people, implying an IPO size of $200 million to $300 million.
Your Local Mall Is Dying
RETAIL: The slow death of the American shopping mall is not evenly distributed. A disproportionate number of recent high profile store closure announcements have been in communities that are already struggling. It's creating a retail Rust Belt. This version of the Rust Belt won't be as easy to wrap up into a political platform as the manufacturing Rust Belt, and creates different types of challenges for the communities impacted.
Seven Major Trends That Will Define Retail
RETAIL: Expect more trouble and turmoil for legacy retailers in 2017, experts say. But stay on the lookout for savvy merchants to leverage their physical stores in new, compelling ways, and watch for technology to continue to disrupt virtually every facet of the shopping experience — in stores, online and in between. Here are the seven trends poised to dominate retail as the year unfolds.
Retail Cost Structures and Sunken Costs
CAPSTONE: The common thread between all of these examples is the move to smaller stores from mega-stores of the past. It's unclear if big stores will exist in the future, or if they will soon be relics. The problem is that retailers today are forced to use the retail stores they have, not the retail stores they need, all because of their pre-internet cost structure.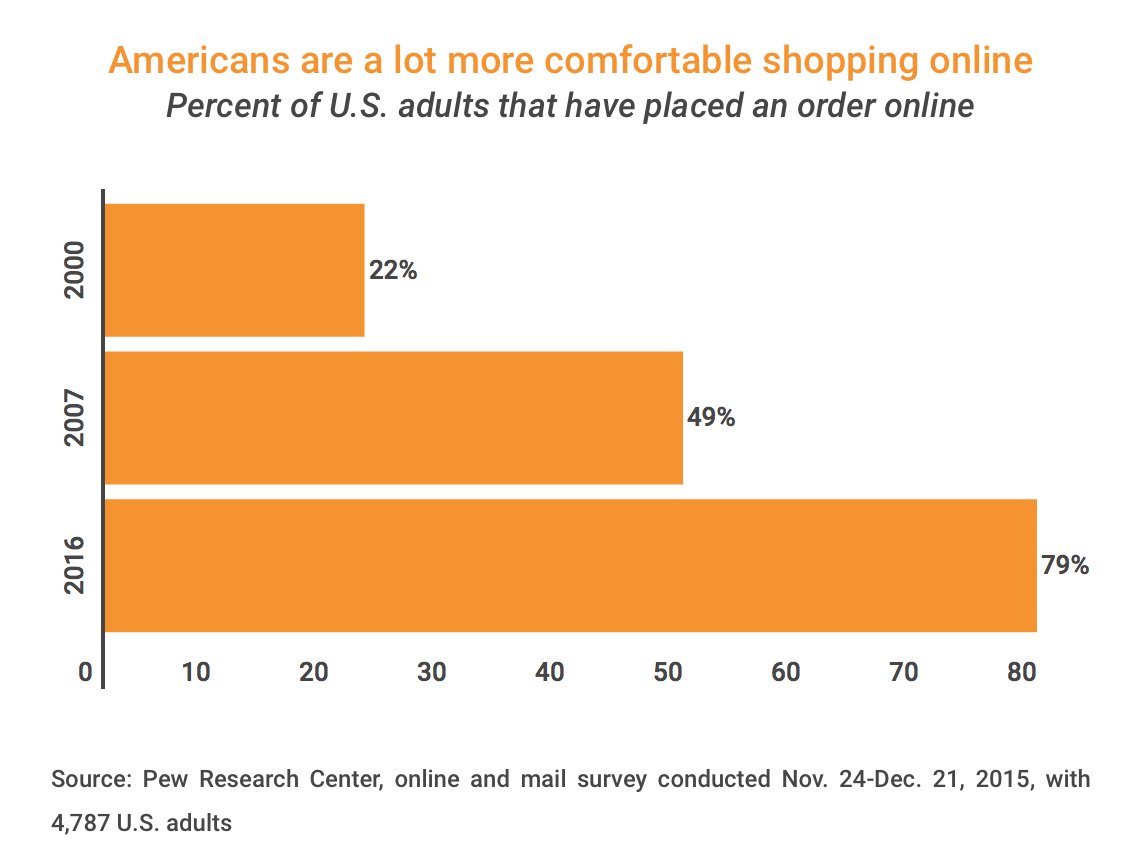 Graph by 2PML reader and Internet Retailer's own Fareeha Ali. 
Last Word: House of Cards
The National Retail Federation held their annual event in Manhattan and this year's preeminent theme was "prepare to conquer omnichannel." It was a lavish event with credible executives discussing the future of mobile, virtual reality, augmented reality, voice commerce, and the continued shift from physical to online sales. To many, it was a refreshing cheerleading session for the faltering retail sector. The industry's struggles deserve as much media scrutiny as the loss of rust belt manufacturing jobs. Unfortunately, the critical mass of retail job loss is too far off to galvanize the media in ways that coal and manufacturing have.

See: Dan Primack's relevant tweet

One thing that I noticed throughout the week's NRF commentary is that the rhetoric seemed more lofty than what has been heard in years past. Specifically, speakers and panelists worked really hard to convince retailers that now is not the time to bail on brick and mortar investment. Luminaries like Rebecca Minkoff cheered retail's place in the lives of upscale shoppers.

A recent Lean Luxe quotes on the what is replacing big box retail:

They've been replaced by more focused and niche gathering places, most of which are monobrand standalone spaces in the form of hybrid shops. We've seen this in a big way with Rapha, who uses their Cycling Club locations throughout the world as gathering places for their members of the cycling community. We're seeing this with Monocle too, perhaps not a traditional retailer in that sense, but still serving its tight community with several Monocle Cafes sprinkled in international cities. Saturdays, the NY-based surfing brand, also uses their locations––complete with small coffee shops––in this fashion. Even Toms does this with their Outpost concept stores.

In every instance here, each brand uses their physical spaces as hyper-specific communal gathering places for their members. So while the big box brands and the mall structure are on their way out, upmarket operators like the above are taking advantage of the situation––and perhaps even accelerating the death of the mall, as shoppers come to prefer these smaller, more intimate models more.

And there is truth in that message. Brick and mortar retail is not failing at all levels. For the upper middle class and beyond, it is actually getting better. Josh Quinn is the owner of a multimillion dollar boutique in the heart of urban Columbus, Ohio. Quinn is more than a store owner, he is a seasoned retail veteran and analyst. According to him, boutique retail is actually performing better than expected and that long-game players who care about customer experience are winning.

But the real economic shift will be felt in exurban, lower-to-middle class areas. These areas are more dependent on shopping malls and the associated commercial real estate developments to fill their open swaths of land. This is where these communities go to shop, eat, and work. This is also where a sizable amount of tax revenue is generated. Without anchor stores or foot traffic for smaller businesses, exurban commercial real estate is nothing more than a house of cards. Next generation retail will not be there.

I won't speculate beyond the facts but the calculus is simple enough. The foundation of all suburban shopping mall is the anchor retailer and literally 100's of anchor locations are closing each month as eCommerce begins to establish itself as the primary means of retail shopping for middle to upperclass America. The digital shifts are consequential to physical structures. Frankly, younger brands do not need that space to succeed. And older brands are now mimicking their younger counterparts.

There are obvious negatives here but the companies that are best positioned to benefit from the resetting of American retail are ones that are considered digital, native, vertical brands. These companies, the software, 3PL infrastructure, and agencies that support them are primed for growth as the evolution of retail continues.

- @web