This is issue no. 180 of 180. The last issue had a 💪🏽 49.12% open rate and a 26.13% engagement rate with 6.31% of you visiting this article on the seven major trends that will define retail. That commercial that you just loved, well, the artists are probably on this list - Ad Age's Agency A-List is right here.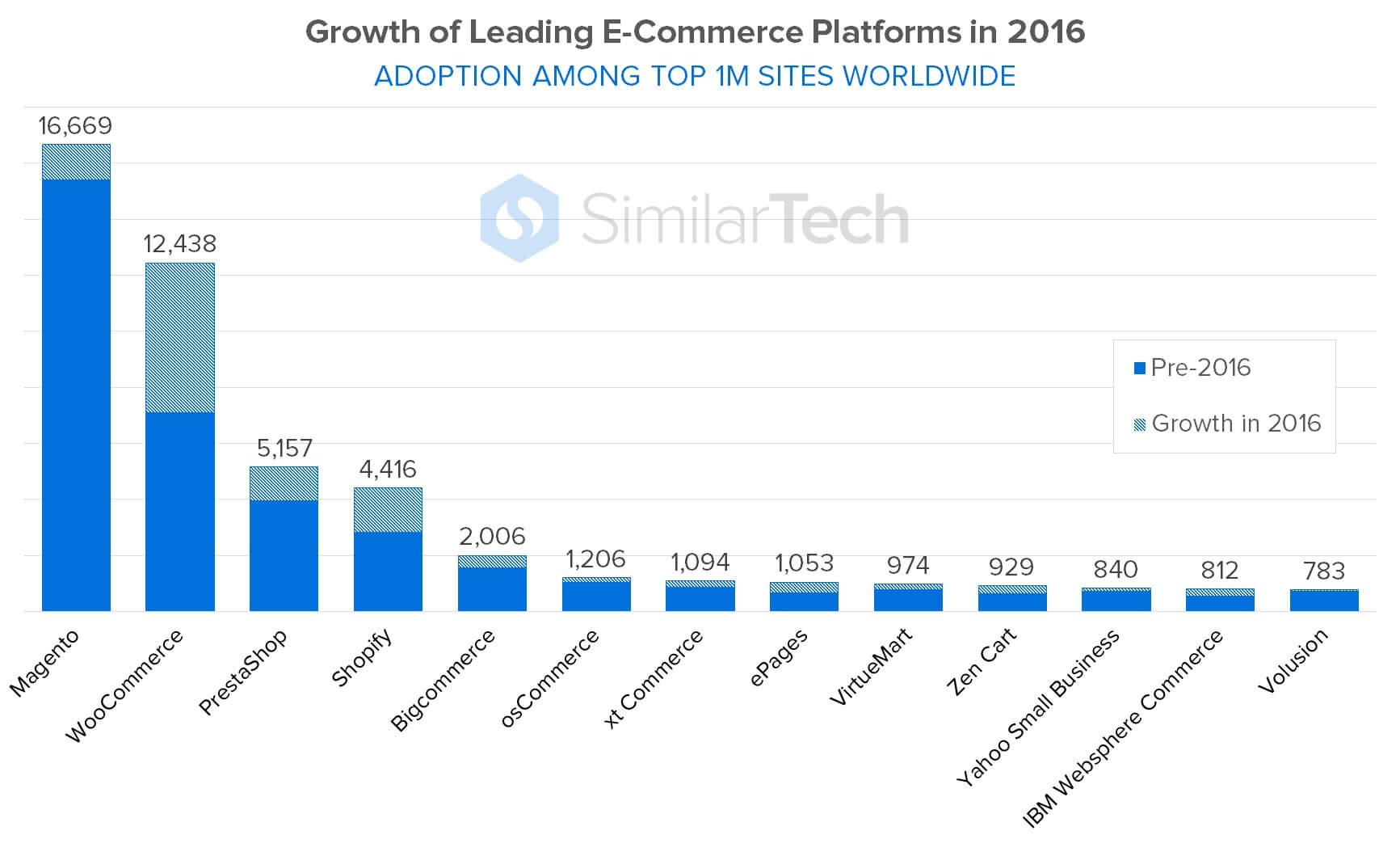 The growth of mid-market eCommerce is seen here. The surprise is that Shopify.com trailed WooCommerce and PrestaShop in 2016 growth. It shouldn't be surprising, however. Wordpress powers 30+% of all sites on the web and WooCommerce is most easily integrated into their existing platform. Publishers are more likely to use WooCommerce over Shopify.

New to this letter? Subscribe here. Potential partners go to 👉🏽 partnership and the Future of 2PML. 
Today's Top Intelligence (12 Reads)
Steve Jobs Saved Nike?
BRAND: "He was absolutely right," said Parker. "We had to edit." Instead of going into another product line for technology, Nike stuck to what they did best while partnering with Apple. The result was Nike+, reportedly one of the most successful Nike campaigns ever. Steve Jobs didn't just give advice—he lived it. Jobs was fired from Apple but returned as the company was floundering in 1997. His first order of business? Cut.
Inside Instagram's Reinvention
MEDIA: Brands, celebrities and publishers had arrived en masse, and with them the pressure to capture and share that perfect photo — the one that made you and your weekend hiking adventure look as cool as humanly possible — had escalated. User feeds were riddled with what some saw as over-produced or inauthentic depictions of people's lives. The feed was becoming a digital game of keeping up with the Joneses.
Tidal Distracts From Sprint's 99 Problems
MEDIA: Now Sprint has struck another puzzling -- albeit tiny -- deal for Tidal, the music-streaming service spearheaded by rapper Jay Z. The fourth-largest U.S. wireless provider (yes, Sprint has fewer subscribers than even T-Mobile now) agreed on Monday to buy 33 percent of Tidal for an undisclosed price. According to the website Music Business Worldwide, Sprint paid $200 million for the stake, which would value Tidal at about $600 million. 
Rebecca Minkoff Announces Fashion Tech VC
DNVB: Minkoff, alongside brother Uri Minkoff, CEO and president of her eponymous brand, announced the effort yesterday at the National Retail Federation's Retail's Big Show conference in New York City, in partnership with Quotidian Ventures, a venture capital firm based in New York. The brand is joining several fashion entities that have developed incubator programs in recent years, allowing them to simultaneously identify new talent that will be advantageous to their business and give them an edge as digital harbingers.
If Autonomous Drone Delivery Takes Off
ECOMMERCE: Drones do sometimes generate anger. Major drone users like Wal-Mart, CVS, Amazon and Target have all developed unique drone defense systems, many of which gently retaliate when people on the ground shoot or throw things. "A few dozen times a year, we'll see a foamer," said Craig Matthews, who manages Wal-Mart's drone protection software. If one of Wal-Mart's drones senses a projectile approaching, it can swerve to avoid it, sense the source of the projectile (i.e., the human thrower) and shoot a thick spray of foam in his or her direction. - 2PML Reader, Zoe Leavitt
Forbes Owners back eCommerce Startup
ECOMMERCE: "The unbridled growth of e-commerce has spurred us to focus our investment strategy heavily on tools and technologies that will enable us to capitalize on the industry's potential," said IAM Chairman Tak-Cheung Yam in the funding release. "Bringhub's ability to monetize content at scale, in addition to providing strategic analysis of consumer purchase and behavioral trends, is precisely the tool content producers, retailers and marketers need to supercharge revenue streams in 2017 and beyond."
Apple Tops The 10 Most Intimate Brands
BRAND: Why is brand intimacy important? Because the researchers of the report noted that the top-ranked intimate brands "continued to outperform S&P and Fortune 500 indices in revenue and profit over the past 10 years." Heading the list this year is Apple, which is followed by Disney and Amazon. MBLM defines brand intimacy "as a new paradigm that leverages and strengthens the emotional bonds between a person and a brand." The other top brands were: Harley Davidson, Netflix, Nintendo, Samsung, Whole Foods, BMW and Toyota.
The Four Brands That Won Inauguration
BRAND: The Michigan-based company measured exposure for brands during the televised events on Inauguration Day, which included the motorcade to the U.S. Capitol for the swearing-in ceremony and the parade that followed. Several other brands won the day because of exposure from cable and online broadcasts of the event. The specialty limo is actually an armored truck designed to have a traditional Cadillac appearance on the exterior. The Cadillac, known as the Beast, was first used by President Barack Obama. 
Vox Media hires Nelson as their New CMO
MEDIA: "One of the challenges in this industry we're seeing, is that there is a lot of wonderful content being created for brands, that's becoming table stakes," said Ms. Nelson, who reports directly to Vox Media Chief Executive Jim Bankoff. "But If you can't get people to consume it you're not going to change anyone's business."
6 eCommerce Categories That Will Take Off
ECOMMERCE: eCommerce continues to make gains among consumers, with more people buying products online than ever before. Indeed, eMarketer recently predicted that worldwide ecommerce sales would total $1.915 trillion in 2016, with $423.34 billion of that coming from North America. And the company forecast double-digit retail ecommerce growth through 2020.
Encourage eCommerce Customer Loyalty in 2017
ECOMMERCE: Loyal, repeat customers boost an ecommerce company's bottom line without requiring expensive marketing campaigns or intensive customer service. Repeat customers convert at a higher rate than first time buyers. Repeat customers tend to spend more on each order than new customers, and repeat customers may be generally more satisfied with their purchases than first time shoppers. Finally, marketing to existing customers is much less expensive than trying to acquire new ones.
New Players Dominate eCommerce in 2017
ECOMMERCE: Meanwhile, WordPress-based WooCommerce experienced massive adoption last year, as did fourth-place Shopify. While these particular platforms may already be quite well known in the world of e-commerce, the number of new sites adding to them could spell bad news for Magneto. "While Magento is the undisputed leader when it comes to ecommerce software among the biggest websites, there are players that are growing at a much faster rate, which means this ranking could look very different by the end of 2017," said Buchuk.
Originally, I committed to 180 issues because a) I knew that publishing each one would be difficult but attainable over time b) and frankly, I didn't think that it would continue. I was right about one and wrong about the other. I hope that you stick around to observe the letter's growth and how this dynamic readership continues to influence it.

I want to personally thank all of you who have joined this growing list. In all, it grew well beyond what I anticipated. I wanted to establish a place for people that share our industries' many interests. To do this, I wanted to examine the several areas where our industries intersect. I focused on eCommerce (of course), data, branding, and media.

The intersection of media, eCommerce, and brands should matter to everyone with a pulse. Our digital economy continues to shift beneath our feet, like a lithosphere, as each industry jostles with new constraints, partnerships, and opportunities.

I want to thank several analysts and publishers, large and small, for doing great work (and reading 😀): Business of Fashion, Lean Luxe, CB Insights, The Information, Stratechery, Bloomberg Gadfly, and Pando Daily. You should read them all! And lastly, I've included a small informational document on partnership opportunities in the intro. See you on Wednesday for 181.  - @web